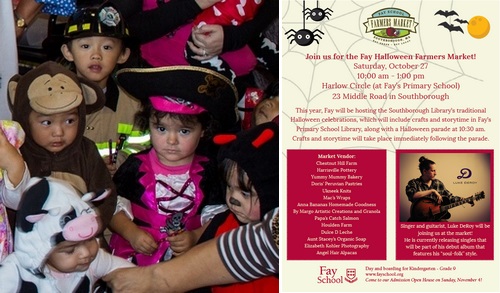 Due to the flood, the Southborough Library doesn't have space to hold its annual Trick or Treating party. So, Fay School stepped up to help out.
The school was already holding Halloween themed festivities as part of an upcoming Farmer's Market. Now the fun is expanded to include both.
On Saturday, October 27th the market will feature:
Halloween celebrations, which will include crafts and storytime in Fay's Primary School Library, along with a Halloween parade at 10:30 am. Crafts and storytime will take place immediately following the parade.
The market is the last one scheduled for this fall. Entertainment will also feature "soul-folk" singer and guitarist, Luke DeRoy.
To read more about the local vendors featured that week and the entertainment, click on the flyer right.
As long as you're marking the date – remember that the Town is holding the big annual party at Finn School the night prior. Plus, the Southborough Firefighter Association is holding its traditional parade and costume contest that Sunday, October 28th at 4:00 pm. Stay tuned for those details.