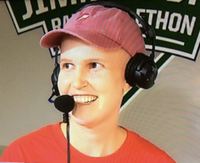 Betsy M. (McDonald) Llanwarne, 32 of Arlington and formerly of Southborough, passed away on Wednesday, October 24 with her loving family at her bedside.
She was the beloved wife of Chris Llanwarne.
Betsy endured a rugged two years fighting an aggressive cancer, but at the same time taught us all how to respond with dignity, grace and grit in the face of adversity. Never once did any of us hear her ask, "why me?" Instead she lived her life triumphantly in between surgeries and sometimes brutal chemotherapy treatments, enjoying many happy moments hiking, kayaking, traveling, and most importantly, joyfully marrying her soulmate, Chris Llanwarne, August 26th of this year. The McDonald and Llanwarne families are heartbroken, but will treasure the wonderful times spent with her. The picture from an August 22, 2018 interview of Betsy on a Jimmy Fund telethon juxtaposes telltale evidence of her cancer with the face of her indomitable spirit. This is the way we hope everyone remembers her.
Born in Boston, she was the daughter of Wendy (Scott) and Alan J. McDonald of Southborough. Betsy spent her childhood years in Southborough, graduating from Algonquin Regional High School , in Northborough, class of 2004. She then attended Bowdoin College, majoring in Environmental and Latin American Studies. Upon graduation, she enrolled in the AmeriCorps in Augusta, Maine, before moving back to Massachusetts to follow her passion for the environment, working at the Massachusetts Clean Energy Center and earning a Master's in Urban and Environmental Policy and Planning from Tufts University. Betsy spent the last few years as a project manager at the Consortium for Energy Efficiency and the Center for Sustainable Energy.
In addition to her husband and her parents, she leaves her siblings, Molly Mazzaferro and her husband Mike of Watertown; Tim McDonald of Watertown; her in-laws, Trevor, Tom, and Sarah Llanwarne of Sevenoaks, United Kingdom, as well as many other family members and friends who loved her dearly.
There are no visiting hours.
A funeral service will be held on Monday, October 29, 2018 at 2 pm at St Mark's Episcopal Church, 27 Main Street, Southborough. Burial will be private.
The family is eternally grateful for the exceptional care provided by her Dana Farber and Brigham and Women's Hospital medical and nursing teams.
In lieu of flowers, memorial contributions may be sent in Betsy's memory to support sarcoma research at the Dana Farber Cancer Institute, Box 849168, Boston, MA 02215, www.dana-farber.org/gift or Macmillan Cancer Support www.macmillan.org.uk/donate.
To leave words of condolence to the family, please visit MorrisSouthboroughfuneral.com