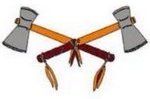 It was a disappointing end to a great fall for three of Algonquin's Girls varsity teams this week.
Volleyball and Field Hockey were both bested by top seeds. Volleyball lost its regional Quarter Finals 3-2 to Acton-Boxboro on Tuesday. You can check out photographer Jeff Slovin's pics here. On Wednesday, Field Hockey lost the Semi Finals 4-2 to Wachusett. You can check out that action in the Telegram's pics here and Slovin's here.
The Telegram had me convinced that Girls Soccer could overcome upper seed competition. But no dice. The Girls lost their Semi Finals on Thursday to Westborough 2-1 in overtime. You can read more on that in Metrowest Daily News and check out their pics here and Slovin's here.
It was a wet, wild, overtime battle where everybody played their best, but the season came to close last night for @girlsgonksoc18. Congrats on a great season. Photos: https://t.co/umHsc3wElJ pic.twitter.com/MT8dL2ZA1S

— Jeff Slovin Photo (@JeffSlovinPhoto) November 6, 2018
That just leaves Cross Country and Cheerleaders to strut their stuff at big competitions this weekend.
I previously posted that Cross Country teams were headed to Central MA Championships this Saturday in Gardener. Forecast rain is changing that plan. The teams will now head to Stanley Park in Westfield this Sunday. The Girls will run at 2:00 pm and the Boys take off at 2:40 pm. If any of them qualify, the runners will move on to All States the following Sunday at the same locale.
As I covered earlier this week, Cheerleading squads have Game Day States and Performance Regionals on Sunday. The updated schedule is below:
Friday, November 9, 2018
7:00 pm – ARHS Football vs. Fitchburg High @ Fitchburg
Saturday, November 10, 2018
2:00 – ARHS Girls Cross Country Central MA championships @ Stanley Park, Westfield
2:40 – ARHS Boys Cross Country Central MA championships @ Stanley Park, Westfield
Sunday, November 11, 2018
10:30 am – ARHS Game Day Cheerleading @ Marlborough High (State Championships)*
2:50 pm – ARHS Performance Cheerleading @ Marlborough High (Central West Regionals)*
*I based the Cheer competition times on when the team is to report to warm-up area, which appears to be 30 minutes before competing. You can check the schedule here.