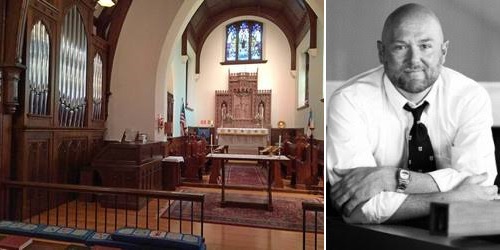 This Sunday, St. Mark's Episcopal Church is holding a special organ recital and reception. The event will raise funds to offset costs of repairs to the church's organ.
The instrument built in 1928 will be of interest to Southborough history buffs. (Scroll down for more on that.) But first, here are details for music lovers.
The recital features St. Mark's Organist and Choirmaster, James Wallace. The program will include works by J.S. Bach, Dietrich Buxtehude, Edvard Grieg and Louis Vierne. Mr. Wallace will also be joined by a string trio for a performance of F.J. Haydn's organ concerto in C Major.
Wallace, who holds bachelor's and master's degrees in organ performance and church music, has been Director of Music and School Organist at St. Mark's School in Southborough since 2013 and became Arts Department Chair in 2016. He has served as Organist and Choirmaster at St. Mark's Church since 2015.
The performance will take place Sunday, November 25 at 3:30 pm in the church. Admission is by a minimum donation of $10/student, $20/person, $50/family at the door. A wine and hors-d'oeuvres reception will follow.

The organ is an Opus 716, built in 1928 by the E.M. Skinner Organ Company of Boston. In 2002 it was completely renovated by the Southfield Organ Co. of Springfield, Mass. The instrument was substantially enlarged and revoiced, the console was replaced and mechanical relays and stop actions were updated to solid state controls. The organ is now under the care of Spencer Organ Company.
Unfortunately, fairly severe water seepage into the blower room in the basement over a period of years did substantial damage to the instrument. Repairs that were made cost over $15,000.
For more information, contact the Parish Office, 508-481-1917, office@stmarkssouthborough.org.