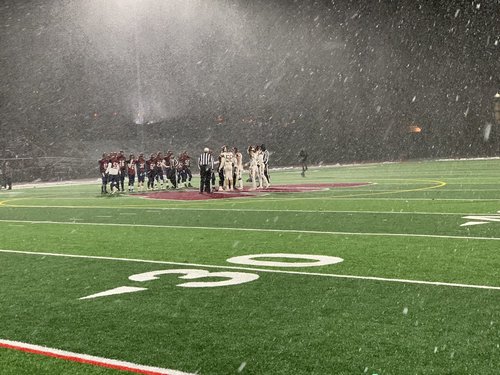 Last week marked the last game in Algonquin Regional fall sports. The traditional Thanksgiving Day Football game was moved up to the night before due to forecast low temps.
Given their records this year, it wasn't surprising that the Rangers shutout the T-Hawks. The Telegram writes:
Defensively, the Westboro football team clearly brought its "A" game to the gridiron in Wednesday night's Thanksgiving Eve game against Algonquin Regional, and the Tomahawks suffered the consequences. The Rangers, sparked by a solid running game and the steady, heady play of junior quarterback Luke Lentine, started fast and finished strong en route to a 10-0 win before a large, vocal and frozen gathering at Westboro's wind-swept Joseph Mewhiney Field. (read more)
Winter sports don't fully kick off for another week or two, but the Boys Swim/Dive team is off to its traditional early start this weekend. They'll be participating in the annual Mid-Wach league "Swims Against Hunger" tournament at Westboro Swim and Tennis. That's Saturday, December 1st at 6:00 pm.
Have a photo of your favorite team in action to share? Email mysouthborough@gmail.com.