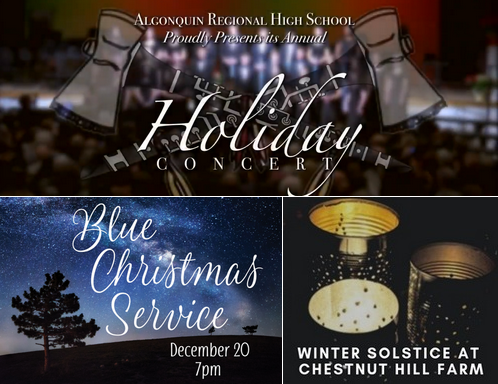 Here are highlights of what's happening around town this week.
[Note: The highlights don't include ongoing weekly programs. For those listings and more, check the Event Calendar.]
Tuesday, December 18, 2018
Senior Center early closure (11:00 am – 5:00 pm): The center is closing early just for the day.
Poetry Workshop (6:30 – 8:30 pm) @ Southborough Library, Main Level: (Rescheduled from last week.) Everyone is asked to bring in five copies of their original poetry for supportive feedback. If you don't have a poem, come and share your insights.
Wednesday, December 19, 2018
Holiday Cookie Swap w/Lunch (Senior Center Program) (12:00 – 2:00 pm) @ Southborough Senior Center: Sign up at the front desk to join in this fun Holiday social event. Please bring 3 dozen cookies along with your recipe by 9:30am if possible or whenever you can between 9:30am and 11:30am for set up purposes. Event begins with a light lunch and sign up is required. For details, see related post.
Daisy Troop Meeting Sampler (5:30 – 7:00 pm) @ Pilgrim Congregational Church, 15 Common Street: This event is to recruit for two new Girl Scout Daisy Troops are being formed in town. Girls will get to experience an abbreviated Daisy troop meeting while parents/caregivers participate, as well. For details, see dedicated post.
Cook Book Club (7:00 – 8:00 pm) @ Southborough Library: (Rescheduled from last week.) Join the Library for its monthly cookbook group. This month's selection is BraveTart: Iconic American Desserts by Stella Parks. Participants will each cook a different dish from the selected cook book of the month. To avoid overlap, email Marianna (at msorensen@southboroughma.com) with your selection.
Thursday, December 20, 2018
SEF Bertucci's Fundraiser (11:00 am – 10:00 pm) @ Bertucci's Italian Restaurant, 160 Turnpike Rd, Westborough: Fundraiser for Southborough Education Foundation. If you mention the fundraiser or show the flyer, 25% of the bill from Dine-in, Carryout or Bertucci's-own Delivery will be donated to the non-profit. (This is only for the Westborough location.) For details, see dedicated post.
ARHS Holiday Concert (6:30 pm) @ Algonquin Regional High School, 79 Bartlett St, Northborough: Holiday music performed by all of Algonquin's Choral groups and Orchestra. (Note, that times are 30 minutes earlier than past years.) The evening starts in The Rotunda with performances by their a cappella groups. Next up are small chamber groups and a jazz combo in the lobby of the auditorium, where student art will be on display. At 7:00, the concert in the auditorium begins featuring their orchestra and choral groups. For details, see related post.
Blue Christmas service (7:00 pm) @ St Mark's Episcopal Church: A community wide "Blue Christmas" service that focuses on the coming of Emmanuel into our world. This quiet service of prayers, readings and candles allows a chance to find solace as we enter the Twelve Days of Christmas. Open to all. For details, see dedicated post.
Friday, December 21, 2018
K-12 Early Dismissal (10:35 am – 12:00 pm): Southborough and Northborough Public Schools have a half day going into winter break. ARHS dismissal is 10:35 am, Trottier and Neary at 11:20 am, and Woodward and Finn at noon.
Cancelled – Winter Solstice at Chestnut Hill Farm (3:00 – 5:30 pm) @ Chestnut Hill Farm, 5 Chestnut Hill Rd: [Cancelled due to rain storm.] The farm is hosting a special winter solstice event for families to enjoy. Pre-registration is strongly suggested as registration is limited. The registration fees are: $9 per member or $24 per member family; $15 per non-member or $30 per non-member family. Children under age 4 are free. For details see dedicated post.
Saturday, December 22, 2018
Chess program at Library (2:00 – 4:00 pm) @ Southborough Library: This program is geared toward players ages 12+ who are interested in learning beginner chess skills. See dedicated post.
Updated (12/20/18 11:53 am): Got word that a lousy forecast for tomorrow night is raining out the Winter Solstice celebration.