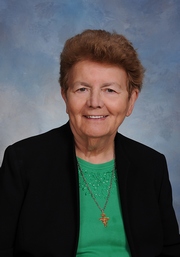 Sister Ursula Tisdall, OSF (85), died in Assisi House on December 13. She had been a professed member of the Sisters of St. Francis of Philadelphia for 66 years. Sister Ursula (Elizabeth Tisdall) was born in Dublin, Ireland, where she was a member of St. Mary Parish. She entered the congregation in 1949 and professed her first vows in 1952. Sister Ursula earned a B.S. in History from St. Mary University in Emmitsburg, Maryland, and an M.A. in Educational Administration from Loyola University in Baltimore. She ministered primarily in education and in pastoral care.
Sister Ursula ministered for 17 years in the Archdiocese of Boston. She served as a chaplain at the Metro West Medical Center in Farmingham and also volunteered at Blessed John XXIII Seminary in Weston as well as with the Archdiocese of Boston. For the past five years, Sister Ursula ministered in the Diocese of Worcester where she did volunteer service at St. Matthew Parish in Southborough.
Sister Ursula's 22 years of service in the Diocese of Wilmington included teaching at St. Anthony of Padua School and Holy Angels School in Newark. She served as principal of Immaculate Conception School in Elkton and St. John the Beloved School in Wilmington.
Additional ministry in the field of education included teaching at Our Lady of Lourdes School in Bethesda, Maryland (Archdiocese of Washington); and teaching at St. Clement School in Rosedale, Maryland (Archdiocese of Baltimore). She served as principal of Holy Spirit School in Jacksonville, North Carolina (Diocese of Raleigh); and St. Paul the Apostle Parish in Spartanburg, South Carolina (Diocese of Charleston).
All services will be held in Assisi House, 600 Red Hill Road, Aston, Pennsylvania, 19014 on Tuesday, December 18. A Christian Wake Service will be held at 9:30 A.M. followed by viewing. Mass of Christian Burial at will be at 11 A.M. Burial will be in Our Lady of Angels Cemetery in Aston. A memorial Mass will be scheduled for a later time at St. Matthew Church in Southborough, Massachusetts.* Sister Ursula is survived by three sisters, Mary Horne, Ursula Corrigan, Sheila Connors; two brothers, James Tisdall and Noel Tisdall, nieces, nephews, and by her Franciscan family. Donations in her name can be made to the Sisters of St. Francis Foundation, 609 S. Convent Road, Aston, PA 19014.
*Editor's Note: St. Matthew's Parish announced that it will hold its Memorial Mass on Saturday, January 12th at 10:00 am. All that knew her are welcome to attend. The church is located at 105 Southville Rd, Southborough, MA.