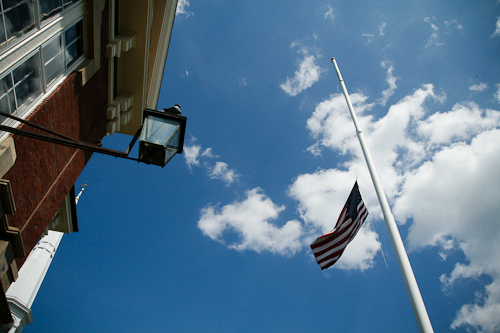 Flags in Southborough and across the state are flying at half staff until sunset today, January 4, 2019, in honor of an MIA WWII soldier from Brookline whose remains were recently identified – 1st Lieutenant Allan Turner.
Lt. Turner was reported missing on July 17, 1945 and officially presumed dead on July 18, 1946 from the vicinity of Bishmaknagar Village, State of Arunachal Pradesh, Republic of India. Lieutenant Turner will be laid to rest in Massachusetts Veterans' Memorial Cemetery, Agawam, MA.
On July 17, 1945, Turner, a member of the 1330 Army Air Force Base Unit, Air Transport Command, was the pilot of a C-109 aircraft, en route from Jorhat, India, to Hsinching, China, over "The Hump," when the aircraft crashed in a remote area. All four passengers were declared deceased after an extensive search effort failed to identify the crash site.
You can read more in the announcement from the DPAA (Defense POW/MIA Accounting Agency).