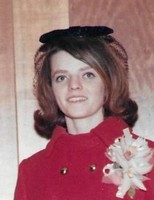 Karen A. (Mooney) Robillard, 71, of Southborough, passed away peacefully on Friday, March 1, 2019, surrounded by her family.
She was the beloved wife of Joseph W. Robillard for over 50 years.
Karen worked for the telephone company for many years. She enjoyed playing golf, traveling and spending time with her grandchildren. One of her favorite hobbies was playing bingo.
She will be remembered as a wonderful mother, daughter, sister and friend that always fought for what she wanted.
In addition to her husband she is survived by her children, Mike and his wife Arliene; Jeff; Greg and girlfriend Elise Askey; Joey and his wife Lydia Keene-Kendrick; her brothers, Brian and Barry Mooney; her grandchildren, Nathan and Jane; and Avery; and a very cute dog, Eddie. She is predeceased by her sister Maureen Durran.
Visiting hours will be held on Thursday, March 7, from to 5 to 7 pm at the Morris Funeral Home, 40 Main Street, Southborough.
Funeral will be private.
To leave words of condolence to the family please visit www.morrisSouthboroughfuneral.com.