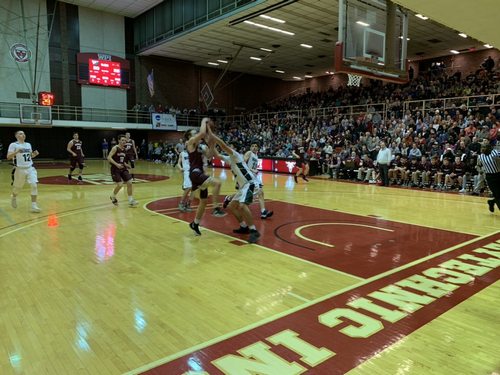 For its district semi-finals, Algonquin Basketball went up against top seed Wachusetts, a team it lost to twice earlier this season. In an exciting upset, the team triumphed 62-47. In addition to covering the game, Southborough Wicked Local writes about their preparation and mindset leading up to last night:
For [Brian] Duffy . . . and [Nick] Redden, they expected to play Wachusett again, to get to the sectional finals.

"It's huge and we definitely saw it get played out in our minds, that we would probably see Wachusett again," Duffy said. "We looked at our film, saw what their tendencies are and where we can be better against them and I think we learned from that."

"We knew that we should have had those two games in the regular season, they just slipped away from us, so we knew if we just played our game, ran in transition, we knew that they wouldn't be able to beat us which happened today."

Heading into the game, [Coach] Doherty knew that his team was ready.

"There was an article that talked about seven straight league titles by Wachusett, and the kids came and said 'Coach, we don't play for league titles, we play for (sectional) titles,' and that showed me that they were ready," Doherty said.
This Friday, they'll head to Worcester State University to play Acton-Boxborough in the Central Mass Division I Final at 6:00pm.
The same night, Girls Hockey beat upper seed Bishop Stang 5-1 in the first round of States. The 11th seed team now needs to face off against 3rd seed Westwood in the Quarter Finals. Details are still TBA.
In another upset that wasn't in T-Hawks favor, Boys Hockey lost the Central MA Quarter Finals the prior night. The 3rd seed boys were beat by 6th seed Auburn, 3-2.
Over the weekend, a few other ARHS teams and athlete ended their postseason journeys.
At Wrestling's New England championships, Andrew Goddard wrestled his way as far as the semifinals before he was pinned. Shea Garand made it to the Quarter Finals. At Indoor Track New England championships, Matt Madamba came in 8th place in the 300 meter run and Tess Reyes 7th in the 2 mile.
Gymnastics hosted the state championship where they came in 6th place. According to the Community Advocate, Lizzy Debruczy walked away as the "all-around champion". Southborough Wicked Local writes that she scored the highest of the team in each event except for floor where she came in 2nd. Thanks to a tweet, you can witness her bar routine:
A week after dominating the uneven bars competition at State Sectionals, @ARHSAthletics Freshmen @LDebroczy scores a near perfect 10 score (9.700) in her @MIAA033 State Gymnastics Tournament performance. @MetroWestSports pic.twitter.com/FjLGM1SgZ9

— Liam Gambon (@GambonLiam) March 2, 2019
At the cheerleading competitions, Game Day Cheer came in 10th at states. But one team may still be in the running to further. Performance Cheer scored 4th at Central MA regionals, earning them the "At-Large-bid" to States.
Have a photo of your favorite team in action to share? Email mysouthborough@gmail.com.
Updated (3/5/19 8:47 am): The Girls Ice Hockey Quarter Finals info has been posted. They'll be playing on Saturday, March 9th, 8:00 pm at the Warrior Arena in Brighton. (Again, they'll be facing Westwood.)