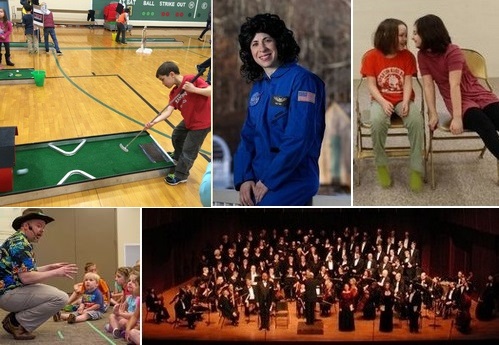 Here is a reminder of what's happening around town this weekend.
Friday, March 8, 2019
Putt Putt Palooza (4:45 – 7:00 pm) @ Mary E. Finn School, 60 Richards Rd: Finn SOS family night fundraiser. It includes mini golf fun, pizza dinner, crafts and music. Families are asked to choose a time slot. The fun is geared to pre-K to 1st graders – but you don't have to be a Finn Student to attend. Families are asked to participate in one of two time slots 4:45 to 6:00 pm or 5:45 to 7:00 pm. For details see flyer.
Saturday, March 9, 2019
Saturdays at Fay – Jungle Jim's Superhero Training (10:00 – 11:00 am) @ Fay School's Primary School, 23 Middle Road: Part of the monthly series of free fun Saturday morning programs designed for children 6 and under along with their parents. For details, see dedicated post.
Drama Out of the Box (11:00 – 11:45 am) @ Southborough Library: Meredith Charles will help children explore the world of acting through pantomime, story-telling and creative expression. This program is for children ages 6 and up. Registration is required. Please register for this program at the circulation desk or by calling the library. This program is sponsored by the Friends of the Southborough Library. For details, see dedicated post.
Free Lacrosse Clinic (2:00 – 3:15 pm) @ St. Mark's School: The town's league for girls is offering a free intro clinic to 1st & 2nd graders. For details, see dedicated post.
Chess program at Library (2:00 – 4:00 pm) @ Southborough Library: The Southborough Library is continuing its Saturday Chess program for players ages 12+ who are interested in learning beginner chess skills. It meets on Saturdays twice a month.
SHS: Meet Sally Ride (2:00 pm) @ Southborough Historical Museum, 25 Common St: The 2nd of 3 Women in History events by the Southborough Historical Society. A historical performer will dramatically portray the the first American woman in space Admission is free (but donations are greatly appreciated.) Space is limited, so reservations are required. For details, see dedicated post.
Sunday, March 10, 2019
AVM: American Folk Songs concert (3:30 pm) @ St. Mark's School Performance Hall, 25 Marlboro Road: Assabet Valley Mastersingers concert; Alternative Parking; Free Shuttle Service at Woodward School, 28 Cordaville Road; $20 Students/Seniors Advanced sale (discount $3 at Outlets). For details, see dedicated post.