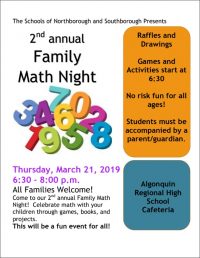 The Southborough Northborough district is holding it's "2nd annual Family Math Night". Although it doesn't specify, this again seems to be geared towards families of K-5 students in both towns.
(There is no mention of it on the districts' middle school or high school websites.)
The free event invites parents to join them to:
Celebrate math with your children through games, books, and projects.
There will also be raffles and drawings.
The event is next Thursday, March 21st, 6:30 – 8:00 pm in the cafeteria at Algonquin Regional High School, 79 Bartlett St. Students must be accompanied.