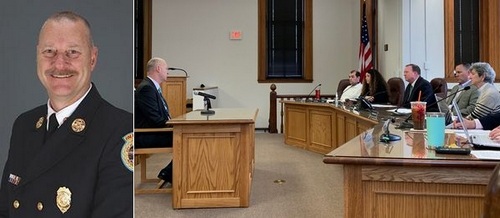 Presumably there's still a contract that needs to be succesfully negotiated. But it looks like our next Fire Chief will be Steven Achilles. The Fire Chief for Portsmouth, NH applied during the second round of applications. Selectmen unanimously named him as their top choice after interviews this morning*.
Repeated themes in board members' stated reasons were: Achilles' focus on communication, collaboration, and service. In sharing her choice, Selectwoman Bonnie Phaneuf opined it's time to look for a department leader to foster growth and cohesiveness. She followed that she thinks Achilles is the one who can do it.
Opening the interview, Achilles told the board that he and his wife recently downsized to make their lives a little more flexible and easier. When he saw the posting in January, he was drawn by the "level" that the Town went to in identifying what the community and department wanted. That combined with the ideal characteristics and qualifications, talking to colleagues in the state, and some visits to the area cinched it. By the time he applied, he was "all in".
In his closing statement, Achilles told the board that up until now he has been pitching himself. If hired, it will no longer be "about me". It's about the community. He said that as a member of Rotary, he tries to live their motto "service above self".
In between statements, Achilles answered questions from the board.
Achilles acknowledged that coming in from the outside will be challenging, but he's learned from his experience. He was an external hire for Portsmouth's Deputy Chief. He said looking at the next 100 days if hired, he'd start by introducing himself to the department.
He pointed out that staff hadn't had a chance to ask him anything. He asserted it's important to give them that chance and let them learn about his approach to the department and his core beliefs.
Achilles said he would look at making "measured, appropriate changes" but only where there are real issues. He clarified his intent would be to enhance the SFD and provide support to staff. He's not looking to duplicate the dept he previously worked for.
Asked about discipline, Achilles said that it would be important to set ground rules and get department "buy in". That minimizes need, allowing more mentoring and coaching. When needed, discipline should be based on written policy and:
progressive in nature and appropriate to what the offense is. . .

We have to be accountable to you and the community.
The chief answered that the biggest challenge he sees for firefighters today is cancer risks. He clarified that everyone is concerned, but sometimes individuals or departments resist changing behaviors to reduce risk exposure. He gave an example about a decontamination process after a fire that gets firefighters wet and is uncomfortable.
Kolenda said he agreed with his colleagues who selected Achilles. He opined they'll be getting "a very humble, but strong leader."
That "humble" nature may be what led to the candidate's answer to a question about what he regretted and wished he could do over. Achilles professed that he may sometimes have been "too honest" though not disrespectful. He said that for him, when he's honest, "it's out there and over." He said he failed to recognize that for some people "it's not over" and that he needs to "temper" how he approaches things sometimes. He's tried to change that and "be attentive to it daily now".
The first to name her choice for chief was Chair Lisa Braccio who said Achilles fit her vision for the department. She told the room that he "stuck out" for her for a variety of reasons. One of those was his answer to a question she posed.
Achilles had explained that when he was Deputy Chief he supported the department's decision to use a federal grant to purchase a 33 foot fire boat. As he told selectmen, "nothing is free". Maintenance and related stipends for staff was costly. A couple of years after he became chief, he realized they needed to get rid of the boat. Too much was being spent outside of their core mission at the expense of staffing.
He said that the PFD purchased the boat without first creating a mission statement. He told the board that among the lessons he learned was avoiding that position in the first place.
He said his very unpopular decision to transfer the boat to another agency was "painful". Achilles told the board that if they searched the internet, they'd find comments from people that were unhappy about it**. Braccio appreciated his willingness to take an unpopular step for the safety of the community.
Selectmen's decision was based on more than just the candidate's philosophy. Members also referred to expertise and experience.
In sharing his selection, Shea explained that he had listened to the technical assessments from the assessment center. He noted to that Achilles answers included "extra details" the set him above. Shea said that was echoed in the "additional level of detail" in this morning's interview.
Brian Shifrin and Braccio both thought Achilles background as a paramedic was important for the SFD.
Board members expressed gratitude for the search committee's work to recruit two "wonderful" candidates.
The other candidate interviewed this morning was Neil McPherson. McPherson, a Sherborne resident, currently holds three jobs: Assistant Fire Chief in Wayland, Deputy Fire Chief in Sherborne, and Call Firefighter/EMT. He also has experience as an interim/acting Strong Chief. McPherson tried to make a case that his local experience was an advantage. He touted familiarity with state regulations and his familiarity with local departments.
Both candidates' resumes showed careers dating back to the late 1980s. But, McPherson's part-time work overlapped with work in the insurance field until 2016. Achilles resume only lists work as a paramedic and/or for fire departments. He became Portsmouth's Deputy Chief in 2000, Assistant Chief in 2003, and the Chief of Department/Emergency Management Coordinator in 2013.
Based on the job requirements, Achilles will ultimately have to relocate within 18 months. That wasn't specifically discussed, but he told selectmen that he lived in Westborough from the ages of 102-12. He said that familiarity with the area was one of the draws for this job. Previously, the Search Committee Chair told selectmen that the candidate had articulated a plan to relocate much sooner than required.
According to an earlier tweet by Metrowest Daily News' reporter Jonathan Phelps, Achilles planned to stop by the SFD this afternoon. This morning, the SFD posted the news to Facebook. It included:
Chief Achilles comes to us with a wealth of knowledge and experience in the fire service. . .

We are excited and eager to start the next chapter of Southborough Fire Department leadership, and look forward to continuing our efforts to improve on the great services we provide. Congratulations and welcome aboard Chief.
*If you would like to watch the video, SAM has streaming available online here or via YouTube here. They'll also be rebroadcasting it tomorrow at 8:00 am and 7:00 pm on Verizon-37 and Charter-192. (Eventually, it will be available on YouTube, but I can't say when.)
**My quick Google search on the fire boat issue didn't dig up negative comments, but it did provide more context for readers interested.
In spring 2016, the PFD began the process of gifting a 33 foot boat to another town. The Laconia Daily Sun summed up:
Purchased by Portsmouth using a Homeland Security Grant for $353,000 in 2006, the Portsmouth Fire Department determined that the $15,000 to $20,000 a year to maintain the boat, coupled with the costs of personnel who can navigate it, did not make financial sense for the department. It was rarely used.
In March 2016, Seacoastonline.com posted more details when covering a request by the chief to replace the 30 foot boat with a smaller one. In April, the Laconia Daily Sun reported that the decision to get rid of the boat (initially to Gilford) was made. You can find more details on the boat including the upkeep costs and lack of use here.