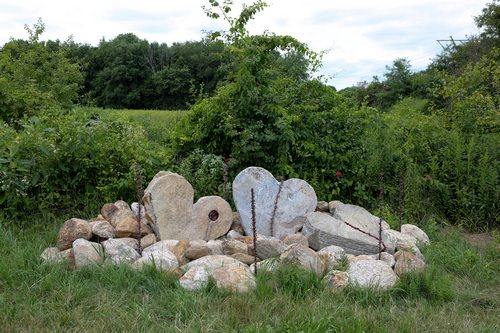 For the third summer running, Beals Preserve will host Art on the Trails. Any artist looking to be part of the juried exhibit should submit a proposal by April 22nd. (Multiple entries are welcome and encouraged.)
Proposals can be for site-specific installations and/or pre-existing work. Installations should be sturdy enough to be displayed along the Southborough Open Land Foundation trails from June 13 – September 22.
As always, the art must leave no permanent trace to the environment and be installed without harm to surrounding trees or vegetation.
The juror for this year's exhibition is Shana Dumont Garr, Curator at Fruitlands Museum. (You can read more about her here.) The 2019 theme is "Marking Territory":
Marking Territory explores the idea that both animals and humans have ways of creating boundaries in their environment in an attempt at creating a safe place. Mark making in art refers to the different lines, patterns, and textures we create ​in a piece of art. We invite artists to consider how one might mark the environment in a non-permanent way, as their own expression of boundaries.
If you're feeling inspired, or think you know someone who might be, you can check out the full details here.
While organizers hope to schedule some site tours, none are set up at this time. But you are welcome to explore the preserve yourself. Click here for the map.
Updated (5/17/19 10:31 am): I just discovered that the opening has moved to Thursday, June 13th (from the 12th.) The reception and walk will take place 5:30-7:30 pm. Stay tuned for details.