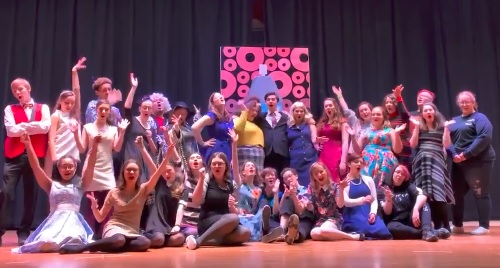 Assabet Valley Regional Technical High School is putting on the musical Hairspray, Jr.
The 60s themed musical will run on Friday, March 22nd and Saturday March 23rd at 5:30 pm.
A matinee will be performed on Sunday, March 24th at 2:00 pm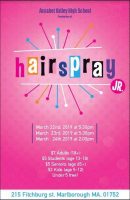 The cost is $5 for students and seniors, $7 per adult, $3 per child ages 5-12, and free for kids under 5.
For those of you unfamiliar with the playt:
Hairspray JR. is the family-friendly musical piled bouffant-high with laughter, romance and deliriously tuneful songs. Adapted from the Broadway production that won eight Tony Awards, including Best Musical, Hairspray JR. is a show that will celebrate your students' diversity and bring audiences to their feet with its positive message and uproarious sense of humor.

It's 1962, and spunky, plus-size teen, Tracy Turnblad, has one big dream — to dance on the popular "Corny Collins Show." When she finally gets her shot, she's transformed from social outcast to sudden star. In balancing her newfound power with her desire for justice, Tracy fights to dethrone the reigning Miss Teen Hairspray, Amber von Tussle, and integrate a TV network in the process. With the help of her outsized mom, Edna, and guest DJ, Motormouth Maybelle, the rhythm of Tracy's new beat just might prove unstoppable.
The school posted the following promo video to Facebook.