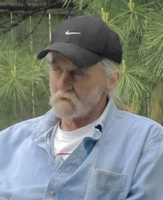 Stephen Paul Morrison, 68, of Southborough passed away peacefully, surrounded by his family on Friday, March 29, 2019 at Rose Monahan Hospice Home in Worcester.
Born in Nova Scotia, Canada, he was the son of the late Rodrick A. and Emily E. 'Betty' (Rushton) Morrison
Stephen was a 1969 graduate of Ashland High School, and studied to be a draftsman in Cape Breton, Nova Scotia.
A carpenter by trade, he worked in the construction and masonry trades his entire career. He loved to fish and whittle in his spare time. In recent years he enjoyed tinkering in the barn, crossword puzzles, and playing Bananagrams with his mom. He was an avid reader, a member of the Southborough Historical Society and a fan of Nascar, the Red Sox, and the Patriots. He studied the players and the games with intensity.
In addition to his mother, he is survived by his children, Carrie Ann Morrison of Clinton; Stephen Keith Morrison of Berlin; Kristie Marie Morrison of Hyde Park, VT; and Paul Stephen Morrison of Mendon; his siblings S. Elaine Binder and her husband Bill of Claremont NH; Roderick W. Morrison and his wife Diana of Bristol, ME; Daniel J. Morrison of Southborough; Judith Sarkisian and her husband David of Upton; Nancy Falconi of Milford; Paula Poole; and Patricia Gunning and her husband Jack all of Westborough. His grandchildren Kyle, Dylan, and Tyler Morrison of Clinton; Damien and Cameron Morrison of Berlin; and Avery Dina Morrison of Mendon; and many nieces, nephews, extended family, and friends whom he loved dearly.
Visiting hours will be held on Thursday, April 4, from 4:30 to 7 pm at the Morris Funeral Home, 40 Main Street, Southborough.
A funeral Mass will be held on Friday, April 5, at 11 am at St Matthew Church, 26 Highland Street, Southborough. Burial will be private.
In lieu of flowers, expressions of sympathy may be sent in his memory to Rose Monahan Hospice Home, 10 Judith Road, Worcester MA 01602.
To leave words of condolence to the family, please visit www.morrisSouthboroughfuneral.com