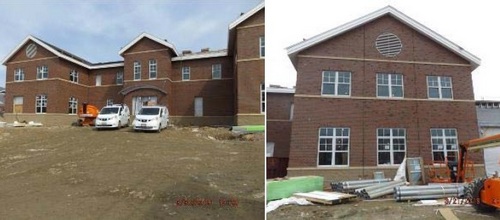 I received the latest monthly construction update on the Public Safety Building. The report covers the month of March.
The newsletter from the Project Manager shares a requested 4 day project extension by the construction company. The Public Safety Building Committee Chair informe me that was since denied.* The completion date is still scheduled for July 10th.
The project was listed as 64% complete at the end of last month. The only "Issue/Concern" the Project Manager noted was trying to limit change orders that would impact the project schedule.
Click here to view the report. I missed sharing the February report, but to be honest there wasn't much new there. If you're curious, you can open that here.
*The increased time request was discussed at the April 8th meeting. It was based on a project change order request to add over $19K for a grease skimmer under the Fire Department's sink based on a requirement from the Plumbing Inspector. At that meeting, the board authorized Chair Jason Malinowski to follow up with the Plumbing Inspector and Design Team.
He'll be reporting the resulting denial of the change order and extension at their next meeting. (That's on April 22nd and will continue to take place bi-weekly until police and fire move into their new digs.)
Apparently, the was denied post meeting based on further discussions with the Plumbing Inspector and Design Team and a further explanation will be outlined during the 4/22 meeting. (We are moving to an every other week schedule until the departments move in).