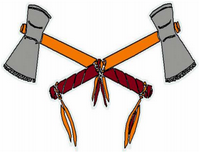 Last spring, Algonquin Baseball was disappointed to not make playoffs for the first time in years. This spring, their new coach, who worked under the last two coaches, hopes to help them in their quest to "get back to Algonquin baseball".
The Telegram's Rick Garven writes:
Algonquin Regional has a new coach, but he's eminently familiar with the program.

After spending the past eight or so years as a Tomahawks' assistant, Brian Doherty was tabbed to replace Mike Mocerino. A 2000 graduate of Algonquin, Mocerino stepped down from coaching after being hired as the athletic director at his alma mater.

Mocerino coached the Tomahawks for five seasons and succeeded the legendary Neil Burke, who retired in 2013 after 26 seasons overseeing the perennial powerful program.

"It's a good challenge for me," Doherty said Wednesday morning during practice. "I learned a lot from both of those guys; they were great to work with. So I'm not changing a whole lot, just trying to build on it." (read more)
Unfortunately, the team lost both of last week's games, as did Softball.
Overall, spring break wasn't good to varsity T-Hawks. Boys Rugby lost 12-27 to Catholic Memorial, and Lacrosse's week was a wash with both Girls and Boys winning and losing games. Only Volleyball had a winning week. The Boys beat both Framingham and Nipmuc 3-0.
Today's Baseball game was postponed by rain. Here are the ARHS varsity games on tap for the rest of the week.
(To find a complete schedule of Algonquin sports, including JV, freshmen, and unified match ups, click here. Follow these links for the Assabet sports schedule and the St. Mark's sports schedule.)
Have a photo of your favorite team in action to share? Email mysouthborough@gmail.com.
Tuesday, April 23, 2019
3:30 pm – ARHS Baseball vs. Doherty Memorial @ Foley Stadium
4:00 pm – ARHS Girls Lacrosse vs. Westborough High School @ Algonquin
6:30 pm – ARHS Boys Lacrosse vs. Westborough High School @ Westborough High School
Wednesday, April 24, 2019
3:30 pm – ARHS Girls Golf vs. Wellesley @ Wellesley Country Club
4:00 pm – ARHS Girls Outdoor Track vs. Nashoba @ Nashoba Regional High School
4:00 pm – ARHS Boys Outdoor Track vs. Nashoba Regional High School @ Algonquin
4:00 pm – ARHS Softball vs. Nashoba Regional High School @ Algonquin
4:00 pm – ARHS Girls Tennis vs. Nashoba Regional High School @ Algonquin
4:00 pm – ARHS Boys Tennis vs. Nashoba Regional High School @ Nashoba Regional High School
5:15 pm – ARHS Boys Volleyball vs. Wachusett Regional @ Algonquin
Thursday, April 25, 2019
3:30 pm – ARHS Girls Golf vs. Quabbin Regional High School @ Westborough Country Club
4:00 pm – ARHS Boys Lacrosse vs. Leominster @ Algonquin
5:00 pm – ARHS Girls Rugby vs. Weymouth @ Algonquin (Field Football Stadium)
Friday, April 26, 2019
3:30 pm – ARHS Boys Volleyball vs. South @ Algonquin
4:00 pm – ARHS Baseball vs. Shrewsbury High School @ Shrewsbury
4:00 pm – ARHS Softball vs. Shrewsbury High School @ Shrewsbury
4:00 pm – ARHS Girls Tennis vs. Longmeadow @ Algonquin
4:00 pm – ARHS Boys Tennis vs. Longmeadow @ Algonquin
5:00 pm – ARHS Boys Rugby vs. Belmont @ Algonquin
Saturday, April 27, 2019
11:00 am – ARHS Baseball vs. Wellesley @ Wellesley High School
1:30 pm – ARHS Girls Outdoor Track vs. TBA @ Shrewsbury (Relays)
1:30 pm – ARHS Boys Outdoor Track ARHS Boys Outdoor Track Relays vs. TBA @ Lunenburg High School
3:00 pm – ARHS Girls Lacrosse vs. Dover-Sherborn @ Algonquin (Field Football Stadium)