This Saturday, there are two extra reasons to stop by the Library. The Friends of the Southborough Library will be holding its Summer Book Sale and the Strawberry Social.
Summer Book Sale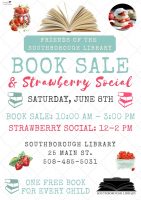 The sale will run this Saturday, June 8th, from 10:00 am to 3:00 pm.
Come on in to stock up for summer reading – hardcovers, paperbacks, fiction of all genres, non-fiction, etc.
Each child (including young adults) is entitled to one free book.
As usual, we'll be offering sales for those who stuff a Friends of the Library bag. (Bring your old tote or buy a new one that day.)
Strawberry Social

If you like strawberries and cream – you'll want to time your shopping to coincide with the social.
From noon to 2:00 pm, our volunteers will be dishing out fresh strawberry shortcakes for free. (Although, contributions to the Friends are always welcome.)
Both events will be outside in the front parking lot. That means, it's not a "rain or shine" happening.
Our fingers are crossed for a beautiful Saturday. But we've reserved June 15th as a backup rain date. (If that's required, I'll definitely be posting the news.)
Note: Since the Summer Food Drive down the street at the Senior Center is from 8:00 am – 4:00 pm, you can easily swing by there with your donations before or after the Library.