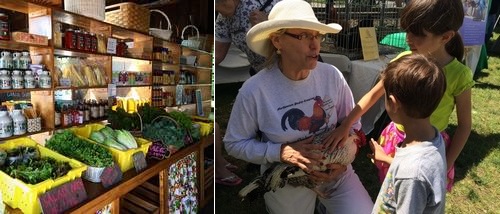 One of the great things about summer is all the fresh produce. If you've only been getting your food at the supermarket, you're missing out.
There are quiet a few options worth checking out – including one today and some over the weekend.
In town Farm stand
Tuesday, Thursday, Friday and Saturday:
Chestnut Hill Farm's Farm stand is conveniently located on Chestnut Hill Road. In addition to the fresh produce grown right there, prepared foods from local vendors, and sometimes even farm raised meat. The stand is open from 2:00 – 6:00 pm on Tuesdays, Thursdays, and Fridays (during CSA hours). It's also open on Saturday from 9:00 am – 2:00 pm. You can also sign up to join their produce and/or meat CSAs.
While you're there, you can swing by the goats to say hi and check out the new display this summer for kids – Storywalk on the Trails:
Laminated pages from a children's book are attached to wooden stakes, which are installed along one of our farm's trails. As you stroll down the trail, you're directed to the next page in the story.
Farmer's Markets
Hopefully, Southborough's Fay School will be bringing back their weekly Farmers Market in the fall. Until then, there isn't one in Southborough. But you don't have to drive far to find one. There's a farmers market open nearby five days per week in a neighboring town.
Saturday:
Ashland Farmers Market – Open Saturdays from 9:00 am – 1:00 pm through October 12, on 125 Front Street.
Featuring: over 25 vendors (including produce, meat, eggs, prepared foods, and artisan goods), a community and town table, live music, event days, food demos, and the Kids' Corner.
Sunday:
Hopkinton Farmers Market – Open Sundays from 1:00 – 5:00 pm through October 13, on the Hopkinton Common (corner of Marathon Way and Ash St).
Featuring: produce, meat, breads, prepared foods and artisans.
Tuesday:
Hudson Farmers' Market – Open Tuesdays from 3:00- 6:00 pm (except July 2nd) through September 24 at Unitarian Church, 80 Main Street
Featuring: fresh fruits, vegetables, wine, meat, dairy, eggs, baked goods, prepared foods and more, plus occasional live music.
Wednesday:
Shrewsbury Farmers Market – Open Wednesdays from 2:30 – 6:30 pm through September 25 at Shrewsbury Senior Center Parking Lot, 98 Maple Ave (behind Shrewsbury Town Hall).
Featuring: fresh fruits and vegetables including specialty Asian and micro green produce. Local, grass fed, free range and antibiotic free meats including sausages, ground meats and cuts, eggs and cheese. Artisan and handmade baked goods, gourmet brownies, fudge, alpaca fleece products, and more.
Thursday:
The Westborough Farmer's Market – Open Thursdays from noon – 6:00 pm through September 28 at the Congregational Church in downtown Westborough.
Featuring: Dozens of varieties of fresh vegetables, cage free eggs, Massachusetts maple syrup, wine, beef, lamb, pork, fresh baked bread, brownies, and artisan goods. They also feature live music and a children's activity/craft each week.
Framingham Farmers' Market – Open Thursdays from noon – 5:30 through October 11, on the Village Green/Center Common (60 Edgell Road).
Featuring: Farm fresh produce; grass fed beef, pork, poultry, eggs, fresh fish, breads, local wine, various artists and assortment of food artisans.
Marlborough Farmer's Market – Open Thursdays from 3:00- 6:30 pm (except July 4th) through September 25 at Main Street-Union Common
Featuring: fresh vegetables, organic crafts, pastries, granola, jam, and more.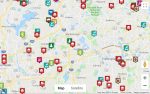 If you're interested in going further afield, you can check out the state's list/map of farms and markets here.
You can also check out Wicked Local's list of farm stands in the region – from Amesbury to Weston.
Did I miss something? If you'd like to share your favorite local places to get fresh food, comment below.