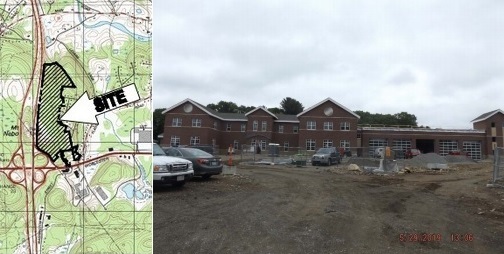 A quick update on a couple of items that slipped by me this week (one of which caused me to make an error that needs correcting).
Public Safety Building schedule change
Apparently, I should have waited until this morning to post last evening's update on the Public Safety Building.
I missed a big change made during Monday's PSB Committee meeting. Last night, Board of Selectman Chair Brian Shea announced that an extension was approved from August 1st to the 13th. He asserted the change will not increase costs to the taxpayers.
Sharing the PSBC's announcment, Shea said the change was given to allow "the proper spacing of a few items to make sure they get done right." No further changes to the schedule should be requested by the contractor.
Shea clarified that the goal is to get the departments settled in before the start of school.
That's a reference to abutting Woodward School. The completed project will bring a change to the school's driveways. Buses will be traveling a different path than parents picking up and dropping off. (Stay tuned for more on that in mid to late August.)
Conservation Commission Meeting on Thursday
On Monday, I missed a meeting agenda posted by the Town between when I pulled information and when I ran my highlights of the week. Given the controversy of a project on the agenda and the number of residents following it, that deserves an update.
Tomorrow night, the Conservation Commission will be meeting. There are several hearings and other items on the agenda (which you can find here).
The one that jumps out is the Park Central hearing at 7:25 pm. As I posted last month, the item was scheduled to be back in front of the commission on May 30th. (You can find more context in that story here.) As I updated two days prior, the commission announced that the developer asked to put that off until their June 20th meeting.
To look at the plans and applications on the Town's website, click here.