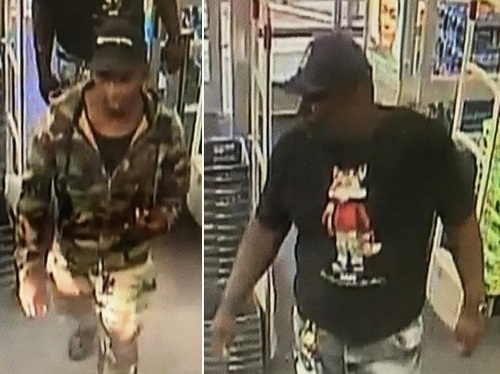 Southborough Police issued an alert on Facebook over the weekend. They are asking the public to help identify two men who allegedly stole gift cards from the Walgreens on Route 9 in Southborough.
On Saturday night, the SPD posted images from a security video with the following message:
Please help us identify the two individuals in the following photos. Tonight, at approximately 7:12pm, two black males entered the Walgreens in our town (located at 78 Turnpike Road) and stole three gift cards totaling $1000. One male was wearing a black t-shirt with a cartoon fox on it; acid washed jeans; and a black hat. The other male was wearing a camouflage hoodie with matching pants, and was also wearing a black hat. Both males appear to be in their mid 30's; and from surveillance footage, it appears that they left the area on foot. Please call the Southborough Police Department at (508) 485-2121, if you have any information. Thank you.