This Sunday's Strawberry Festival isn't the only thing going on at Chestnut Hill Farm this summer.
Among it's special events this summer is next Tuesday's "Book Bugs" for tots and preschoolers. That's part of a continuing monthly series the farm has been hosting this spring. Trustees are also offering an ongoing, free StoryWalk for young readers this summer. You can take part in that most days this summer.
Below are the details on both of those offerings and a list of other upcoming events.
Book Bugs: Farm Fun for Little Ones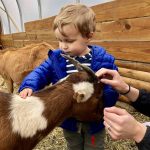 (monthly on Tuesday mornings – registration required)
Bring your little bug (ages 1-5) to the farm each month for an interactive children's story time. We'll read a farm story, make a craft, have a snack, and explore the farm!

Registration is strongly encouraged to make sure we have snacks and supplies for all of our little friends! If you register but can't go, don't worry – we'll apply your registration to a future Book Bug event of your choice – because we understand little bugs get tired, grumpy, or sick sometimes.

Little bugs should wear play clothes that can get a little dirty – and their grown-up may want to, too!
The registration fee for each program is $9 per child for members of The Trustees of Reservations. For non-members, it is $15/child. (Adults accompanying are free.)
The events each take place on a Tuesday from 10:00 – 11:00 am. Click the following linked dates to register: June 25, July 16, August 13, and September 24.
Below are some photos to promote and from sessions this spring:
StoryWalk
(free, drop-in, self-guided, daily dusk-dawn; June and August, plus possibly part of July)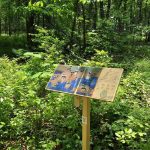 This month, the Trustees posted StoryWalk displays along a trail at the farm. (You may be familiar from past displays at the lower schools.) The Trustees promote:
StoryWalk is an innovative and delightful way for children — and adults! — to enjoy reading and the outdoors at the same time. Conceived as a way to inspire parents, teachers, and caregivers to take young children outside for physical activity and to learn, StoryWalk helps build children's interest in reading while encouraging healthy activity for everyone.

Laminated pages from a children's book are attached to wooden stakes, which are installed along one of our farm's trails. As you stroll down the trail, you're directed to the next page in the story. What a lovely way to enjoy the farm!

Before you go, check out the Chestnut Hill Farm trails map.

How to get to the StoryWalk: When driving down Chestnut Hill Farm Road, park in the last parking lot on the right ("trailhead parking" on the map). Follow the Field Road up the hill. The fenced-off nesting birds habitat will be on your left. At the end of the field trail, where the Maple Loop begins, you'll find the start of the StoryWalk. Please sign our visitor's log so we know you've participated in our StoryWalk! The short, easy hike into the woods will take you along a portion of the Oak Loop and back out to the fields. Then follow the Overlook Trail down the hill — it connects to the Field Road.
Below are images the farm posted to Facebook:
June's featured book is:
a sweet rhyming story called "Over in the Forest," written by Marianne Berkes and beautifully illustrated by Jill Dubin. The end of the book has interesting facts about forest animals and tips on being a wildlife detective – so cool!
Unsure of how long the pages would hold up, the Trustees originally promoted these as available for just the month of June, with another display planned for August. If the pages are in good enough condition, Trustees may keep up the June story for all/part of July. That's yet to be determined, so take advantage of it this month, just in case.
Those are just two of this summer's many offerings. Others include adult cooking and how-to classes, family friendly dinners and fun, a morning camp for kids, and yoga.
Here is the list. (Most require pre-registration, some by at least 2 or 3 days in advance):
CHF Strawberry Festival – Sunday, June 23 (10am – 3pm)
Sunset Yoga – Wednesday, June 26 (7:30 – 8:30pm)
Sunset Yoga – Thursday, July 11 (7:30 – 8:30pm)
Farm-to-Table Dinner – Friday, July 19 (6 – 8pm)
Farm-to-Table Dinner – Friday, August 2 (6 – 8pm)
Sunset Yoga – Thursday, August 8 (7 – 8pm)
Farm-to-Table Dinner – Friday, August 16 (6 – 8pm)
Farmer for a Day – Monday, August 19 (2:30 – 3:30pm)
Farmer for a Day – Tuesday, August 20 (2:30 – 3:30pm)
Farmer for a Day – Wednesday, August 21 (2:30 – 3:30pm)
Farmer for a Day – Thursday, August 22 (2:30 – 3:30pm)
Farm-to-Table Dinner – Friday, September 6 (6 – 8pm)
Sunset Yoga – Thursday, September 12 (6 – 7pm)
Chestnut Hill Farm HarvestFest – Sunday, September 15 (10am – 3pm)
Farm-to-Table Dinner – Friday, September 20 (6 – 8pm)
Build Your Own Backyard Pizza Oven – Tuesday, September 24 (10am – 4pm)
You can find details in the blog calendar and on the Trustees' website.
Updated (7/17/19 9:52 am): Removed some events from the list that have since been cancelled.