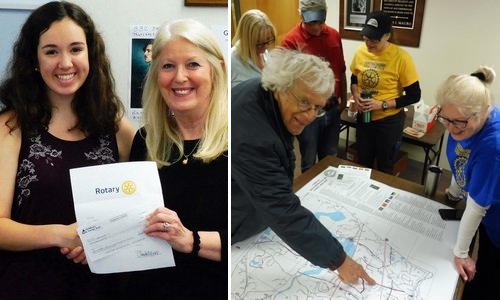 The Southborough Rotary Club got a lot of attention through its the Food Truck festival this past spring. But putting on community events isn't the only thing the volunteer group does. Rotary does a lot to promote service to the community. So, they deserve a moment in the spotlight for the good they've been doing this spring and summer.
Looking back in reverse order, here are some of the highlights:
Fostering Youth Leadership

Every year, the Rotary gives out scholarships for high school sophomores to attend a Rotary Youth Leadership weekend. The "unique positive high impact program" brings together up to 200 students representing over 50 Rotary Clubs in Central MA. This year, the awards were granted to Raiya Ann Sehgal, Katherine Holmes, Luke Osetek, Grace Hartnett, and Andrew Hadden. They attended the event in Fitchburg two weeks ago.
The event included a Financial Reality Fair:
where students gained new financial literacy skills. They had to visit tables, staffed by Rotarian volunteers, and make choices to handle expenses within a budget. They also had to spin the Wheel of Fortune (or Misfortune!) to factor in unexpected expenses or win falls. The Reality Fair was just one of many thought-provoking events the "RYLANs" participated in during the weekend long conference.
(Click here for photos)
College Scholarship
The club presented its 2019 scholarship to a student headed to a state school last month:
The Rotary club of Southborough was pleased to award Lillian Schaefer of Southborough, MA the Annie Lori Satterfield Memorial Scholarship. This scholarship is awarded to the graduating Algonquin Regional High School applicant with the highest academic record who is pursing a 4 year degree at a Massachusetts state school. The scholarship totals $4000, with $1000 provided per academic year. Club President Christine Narcisse was delighted to provide Lillian the first scholarship check at a meet & greet the club held at the Southborough Library on June 19, 2019. Lillian plans to attend the University of Massachusetts at Amherst to pursue a degree in Kinesiology.
Assisting Veterans

The Rotary used its 2nd annual Food Truck festival to support veterans. In addition to collecting 491 pairs of socks, they also helped the Massachusetts Association of Public Health Nurses (MAPHN) collect over $300 in donations. Those funds will be used towards a new hand held dopplar unit to aid with early detection of vascular issues for veterans. As for the socks, rotary was happy to share that donations included many diabetic socks that were especially needed.
Cleaning up our Town
As always, Rotary volunteers helped the DPW promote and run the Town's Earth Day Cleanup.
Rotary volunteers weren't the only ones picking up garbage off the side of roadways. They were proud to report:
Over 100 volunteers fanned out over Southborough on April 28th to help cleanup trash during Rotary Earth Day Cleanup event. People checked in at the Southborough Department of Public Works (DPW) to snag trash bags & select an area on the town map to target. There was time to have a cup of coffee, pickup event T-shirt and even select a free pollinator friendly plant to take home too. THANKS to the SPONSORS for their help with this popular community event: Southborough Department of Public Works, Open Space Preservation Commission, Southborough Recreation Department, Southborough Trails Committee, Boy Scouts Troop 1, Ted's of Fayville, MaGuire & MaGuire, Red Barn Coffee, Domino's Pizza of Southborough, Polar Beverages, Southborough American Legion.
(Click here for photos)
Raising money for Trottier
The annual Talent Show put on by Rotary isn't just about a good time. It also brings in money through ticket sales. This year, Rotary presented a check for $1,800 to the school.
The club also posted a video with a glimpse of the fun had at this year's event:

To learn more about the Rotary Club, check out their Facebook page here. Or join them for one of their meetings:
Club Meetings – 1st, 2nd, & 3rd Wednesday mornings, 7:00 am-8:00 am, at the Red Barn, Rt 9 East bound. 4th Wednesday evening is a club social event.