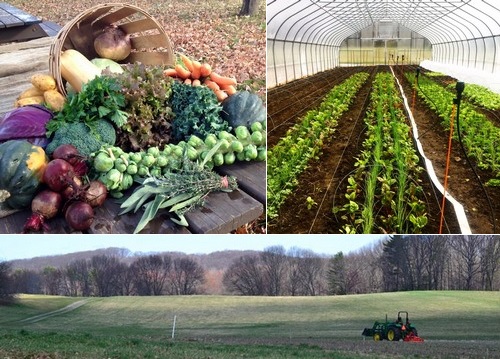 Chestnut Hill Farm made a big announcement. It was officially certified organic. That means:
the Trustees meets all the USDA's Organic Standards, including growing without the use of synthetic pesticides, herbicides, and fertilizers, not using GMOs or treated seeds, and using safe irrigation and wash water practices.
Regular customers of the Farm Stand or CSA may have been aware that the farm has used organic methods for years. But without pursuing an official certification, they couldn't market the produce as organic. Now they can.
The Trustees of Reservations shared the details in a press release last week. (Scroll down for that.)
Thinking that the produce season was behind us, I asked how people could reach out about the next CSA season. It turns out that you don't have to wait until spring to enjoy very-locally sourced organic produce. I forgot that, thanks to the greenhouse they built last year, the Farm Stand is open year round and they offer Winter CSA options.
Unlike the regular season, the Winter CSA is grouped into three bulk pickups, with one coming up soon. The dates are November 9, November 23, and December 7.
The website also references an option for a Thanksgiving-only Box to be delivered. CHF Farm Manager Desiree Robertson-DuBois explained that needs to be updated (delivery is only an option for Hingham and Boston CSA customers). For our local farm, you can stop by the farm stand or contact her at ddubois@thetrustees.org to order a Thanksgiving box for $72/each for pickup on November 23rd from 10:00 am to noon.
You can find the details and sign up for the regular winter CSA here.
As for the Farm Stand, over the winter they will continue to offer:
Fresh greens from the greenhouse! Early winter brings chard, kale, lettuce, arugula, and cilantro, and late winter means greens plus scallions, leeks, carrots, and fresh onions. And there will be storage veggies such as potatoes, squash, onions, etc. all winter long.

Trustees eggs and cheese, plus local butter

Frozen goods such as CHF pesto, Trustees meats, wild flash-frozen salmon, veggie burgers, soups, and pierogi

Shelf-stable goods such as CHF tomato puree, pickles and pickled beets; locally-made dressings, honey, and condiments; cookies, coffee, pastas, and more
The Farm Stand schedule is:
Summer through December 7th

Tuesday, Thursday, and Friday 2:oo – 6:00 pm
Saturday 9:00 am – 2:00 pm

December 8th – April:

Twice monthly on Saturdays 9:00 am – 2:00 pm during Meat CSA pickup times (dates: 12/14, 12/21, 1/11, 1/25, 2/8, 2/22, 3/7, 3/21, 4/11, 4/25)

May:

Saturday 9:00 am – 2:00 pm
Now here is the Trustees' press release:
October 29, 2019 – The Trustees today announced it has received official organic certification from the United States Department of Agriculture (USDA) National Organic Program for its vegetable farms at Appleton Farms in Ipswich, Chestnut Hill Farm in Southborough, and Powisset Farm in Dover. These nonprofit vegetable farms provide produce for the popular Trustees Community Supported Agriculture (CSA) programs and farm stores at each of these locations, as well as for the Trustees Mobile Farmers Market. Trustees vegetable farms have generally followed organic standards for many years but were not certified organic. After careful consideration, the Trustees made the commitment to take the final step and become fully certified by participating in a rigorous application and inspection process. Certification was provided by Baystate Organic Certifiers, a third-party nonprofit organization that works with the USDA to certify organic products.

"We have always managed our vegetable farms with the organic standards as a guide, but this year was the right time to take the next step and go through the inspection process," says Liz Green, CSA Program Manager. "We're thrilled to be officially certified and to share this great news with our customers and community." (open pdf to read more)