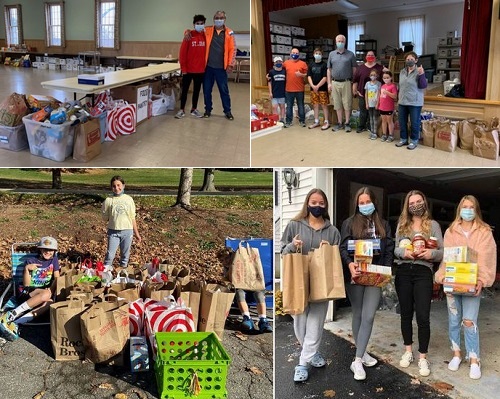 The biggest annual collection drive for the Southborough Food Pantry is Scouting for Food. While that couldn't be held this year, it looks like the community still stepped up to show its generosity to the pantry.
Below are recent thank yous the Food Pantry shared on Facebook. (Click photos to enlarge)
A very big thank you to George and Jackson Harris and Troop 92 for their weekend collection at the Transfer Station. Lots of food, lots of gift cards.
A VERY big thank you to Kim Tolander for her many projects to benefit the Southborough Food Pantry including the SoBo Amazon page. Today she and her family brought in many bags of donations they had purchased with donated funds.

Thank you so much for caring!
WOW! 4th graders Julian Benoit, Emma Primack and little brother Andre Benoit collected food for Thanksgiving today at the Library. What a fantastic collection. Can't thank them enough. Thanks also to all who donated. We're so grateful.
St. Matthews Youth Group with some of their monthly collection. Great job. Thanks so much!
The Southborough Food Pantry would like to extend a heartfelt thank you to Michele Landes and the Southborough Gardeners for their gifts of small vases of flowers and Pumpkin/gourd succulent arrangements for the families who use the Food Pantry. They were such colorful, cheerful additions to their homes during this pandemic. Michele and her floral artists did lovely work which was greatly appreciated by those of our clients who got one to take home.