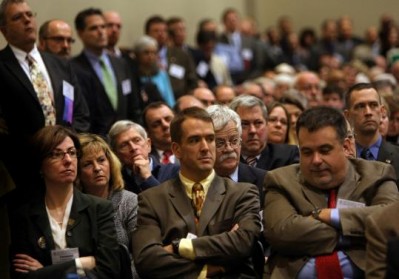 See the woman in the front row on the left? That's Southborough's Assistant Town Administrator Vanessa Hale looking none too happy. And with good reason.
Hale attended the municipal conference last week at which Governor Deval Patrick announced massive cuts in local aid to cities and towns. Patrick said he will cut $128 million for the current fiscal year and proposed an additional $375 million in cuts for the fiscal year that begins July 1.
No word yet on how the cuts will impact Southborough, but it's largely anticipated that towns across the state will have to layoff thousands of employees.
Southborough is already facing a potential $2 million shortfall for fiscal year 2010. Earlier this month, Superintendent Charles Gobron said he expects to cut two teachers and four aids next year. The cuts most likely will happen through attrition.
In the current fiscal year Southborough expects to receive $3,627,909 in state aid (ref). It remains to be seen whether that number will be cut.