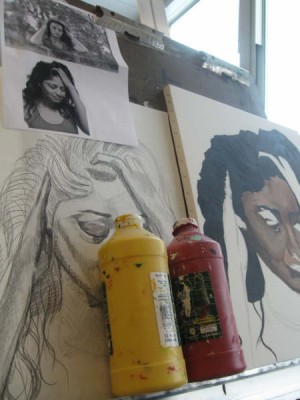 The Arts Council just got access to their exhibit space last month when their long-broken elevator was finally fixed. And they wasted no time filling the space with art.
On Wednesday night they'll celebrate the opening of their first exhibit in several years — a showing of Algonquin seniors in the Advanced/AP art studio program.
Featured artists include Southborough students Sarah Kacevich, Kayleigh Kahn, Carolyn Maiorana, and Katrina Wells, and Northborough students Catie Konstas, Jen Ludwig, Carolyn Mukai, Cori Reuter, Holli Robinson, Catarina Teixeira, and Helen Yang.
The Algonquin Senior Art Show Class of '09: A Creative Collaboration runs February 11 through March 1. An opening reception will be held Wednesday from 7:00 to 9:00 pm. There will be refreshments and music.
For more information, including gallery hours, visit the Southborough Arts Center website. And mark your calendar for the opening of the next exhibit, Collage: Process and Product, on March 13.