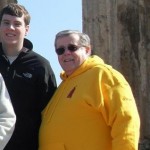 Some of you may have read that Algonquin music director Dennis Wrenn, who died recently on a school trip to Greece, suffered a massive heart attack. But his family says the cause of death is still unknown pending results from an autopsy in Greece.
Family members told the Metrowest Daily News that Mr. Wrenn had the flu before leaving for Greece and that fluid had built up in his lungs a few days before he died.
Rather than focusing on a cause of death, the family has asked the media instead to "please just say that my father died doing what he loved."
Funeral arrangements are pending. Mr. Wrenn's daughter Jessica wrote the following on a Facebook tribute page to her father:
It will take a week or so to even have my father transported home from Greece. Final arrangements will be made when we can get him home. Unfortunately, we are going to have to wait on the ME in Athens to do an autopsy before they will release him … Please keep my dad in your thoughts!
Related stories:
Algonquin music teacher Dennis Wrenn has died
Tributes to Mr. Wrenn
Media coverage for Dennis Wrenn