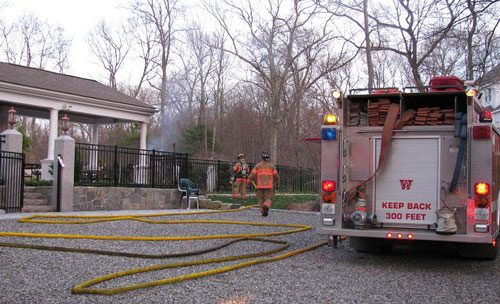 If the latest fire logs are any indication, it's a popular time for Southborough residents to clean up their yards and burn brush. Ideally, brush burning doesn't land you a visit by the fire department, but for a number of residents this week it did.
Brush burning season ends April 30, so plan accordingly.
You'll find the logs after the jump.
Monday 4/20/09
09:55 Unintentional smoke detector activation, no fire, Marlboro Road
12:37 Unintentional smoke detector activation, no fire, Highland Street
14:52 Public service assistance Moulton Road
21:51 EMS call Alexandra Circle
Sunday 4/19/09
00:51 EMS call Skylar Drive
02:22 EMS call Rockpoint Road
14:01 Public service assistance Moulton Road
17:53 EMS call Turnpike Road
19:05 Building fire Old Harry Road (more)
Saturday 4/18/09
21:20 EMS call North Street
Friday 4/17/09
01:30 EMS call Moulton Road
08:21 Alarm system activation due to malfunction Turnpike Road
10:07 EMS call West Main Street, Hopkinton
11:58 EMS call Newton Street
16:33 Public service assistance Main Street
19:30 EMS call Carriage Hill Circle
22:55 Vehicle accident with injuries Framingham Road and Maplecrest Drive (more)
Thursday 4/16/09
01:34 EMS call Wood Street
09:25 Unintentional transmission of alarm Ledge Hill Road
09:39 Unauthorized burning Cordaville Road and Rockpoint Road
11:01 Unintentional transmission of alarm Village Path
11:40 Vehicle accident with injuries 495 North
12:11 Smoke scare/odor of smoke Cordaville Road and Rockpoint Road
12:36 Authorized controlled burning Parkerville Road and Clifford Street
15:56 EMS call Mass Pike East
Wednesday 4/15/09
14:10 Bark mulch fire Cordaville Road
18:38 Unintentional transmission of alarm Metacomet Lane
Tuesday 4/14/09
01:24 Smoke scare/odor of smoke Pearl Street and Highland Street
06:47 EMS call Parkerville Road
10:16 Vehicle accident with injuries Newton Street
11:25 EMS call Willow Street
17:13 EMS call Moulton Road