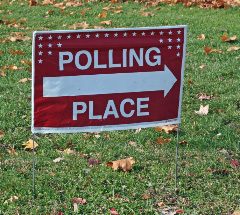 I don't know about you, but with everything going on, I almost forgot about this one. So here's a reminder that the annual town election will be held next Monday.
Of the 13 positions up for grabs, only one — a seat on the regional school committee — is contested. I'll give you some more information about the school committee candidates tomorrow, but until then, here's a complete list of candidates.
Board of Selectmen (1 seat): William Boland, incumbent
Board of Assessors (1 seat): Arthur Holmes, incumbent
Board of Health (1 seat): Louis Fazen III, incumbent
Board of Library Trustees (2 seats): Jane Smith, incumbent and Kent Matthew Read, incumbent
School Committee (2 seats): Susan Dargan, incumbent and Marybeth Strickland, incumbent
Northborough-Southborough School Committee (2 seats): Susan Dargan, David Rueger, Kathleen Harragan
Planning Board (1 seat): Dana Cunningham, incumbent
Southborough Housing Authority (1 seat): Nancy Morris, incumbent
Moderator (1 seat): David Combs, incumbent
Board of Commission of Trust Fund (1 seat): Maryanne Cole, incumbent
Polls are open on Monday from 8:00 am to 8:00 pm. Southborough has 3 polling places. To find yours, visit http://www.wheredoivotema.com.