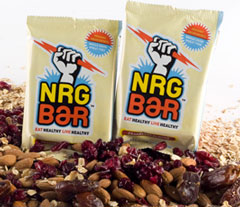 Earlier in the week you read about Southborough businesses like Falconi Bros. and the Southborough House of Pizza that are profiting from the movie being in town. Here's a story about another business seeing an upside thanks to a little bit of initiative.
Dan O'Rourke, owner of Southborough-based NRG BAR a manufacturer of all-natural energy bars, tells the story:
I walked up to the trailers behind the church with a case of NRG BARS and ask to speak to whoever was in charge. They were all very friendly and brought me right over to Charlie. Charlie owns Kraft Services of New England. I gave him the first case as a thank you for coming to Southborough and let him know that NRG BAR is a local business. He said great, I'll put them out and if people like them I'll buy them from you. A few days later I went back and he started buying and will continue to buy. The bars are placed on a cart of snacks which follows the "important" people, as I was told. How cool is that!
Great to see another local business benefiting from the movie biz.