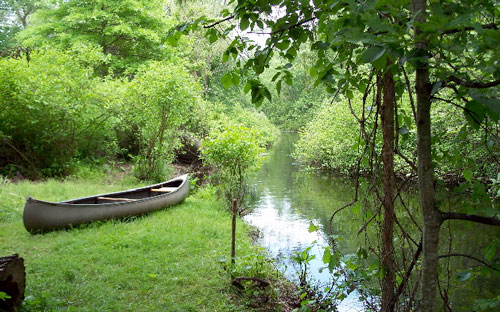 Supporters of the Sudbury River have reason to celebrate this weekend. Once one of the top 10 Superfund sites in the country, the river is on the way to recovery, and in 1999 a nearly 15 mile stretch of the river were designated part of the country's Wild and Scenic River System.
Southborough residents will celebrate the 10-year anniversary at RiverFest on Sunday. To join the family-friendly fun, head down to Wood Street for free canoe rides, fishing, a nature scavenger hunt, fairy house construction, and a guided tour of the Southborough Open Land Foundations' Barber Pasture.
If you've never explored Southborough's Sudbury River, now's your chance. The event is free and runs from noon until 3:00 pm on Sunday, June 14th. Access to the river is through 6 Wood Street (map). For more information, see the event flyer.
Don't forget your camera … and your bug spray.
The event is hosted by the Sudbury River Watershed Organization, Southborough Open Space Preservation Commission, and the Southborough Recreation, with support from the Southborough Open Land Foundation.