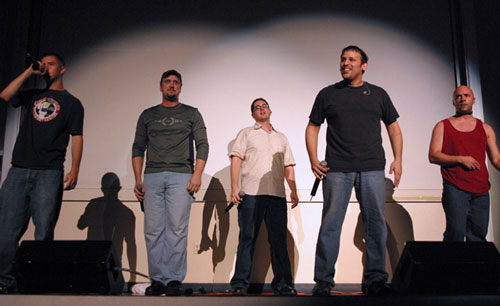 No need to leave town this weekend, because there's plenty to do within our very own borders. Here are six suggestions.
1. Get stuff cheap
First Community Church will hold its Spring Yard Sale on Saturday from 9:00 am to 2:00 pm. First Community is located at 137 Southville Rd (map).
2. Follow the volley
The Third Annual Mixed Doubles Tennis Tournament runs this weekend starting at 9:00 am both days. Stop by the Richardson Courts by Neary School to check out the backhands in town.
3. Buy some books
I always look forward to the Friends of the Southborough Library book sales – it's a great place to get books for our wee one. But they also have an excellent selection of fiction and non-fiction books for adults as well as children, including biography, travel, gardening, cookbooks, health and hobby items in hardcover and paperback. The sale runs on Saturday from 10:00 am to 2:00 pm at the library. There's also a Friends member preview on Friday from 12:00 to 4:00 pm for current members (you can become a member on the spot for $5).
4. Get your car washed
The Pilgrim Church Senior High Youth Group will hold a car wash at the Transfer Station on Saturday to benefit their upcoming mission trip to Washington, D.C., where they will work with five different non-profit organizations that focus on hunger relief, the disabled, the elderly, and children. The car wash runs from 9:00 am to 2:00 pm.
5. Catch a show
On Saturday night the Steeple Coffeehouse wraps up its 2008-2009 season with a show by Five O'Clock Shadow, an all-vocal rock band from Boston. Program organizer Joe Mercadante says the high-energy performance is the perfect way to kick off the summer. The show starts at 7:30 pm on Saturday. Steeple Coffeehouse is located in Pilgrim Church. Tickets are $15 in advance and $18 at the door. Discounts are available for students and seniors. See the Steeple Coffeehouse website for more details.
6. Celebrate the river
The Sudbury River meanders behind Wood Street just south of the railroad tracks, and on Sunday you can spend the afternoon enjoying the view, fishing, canoeing, building fairy-houses, or participating in a nature scavenger hunt. It's all part of the annual Riverfest. The event is free and runs from noon until 3:00 pm on Sunday, June 14th. Access to the river is through 6 Wood Street (map).