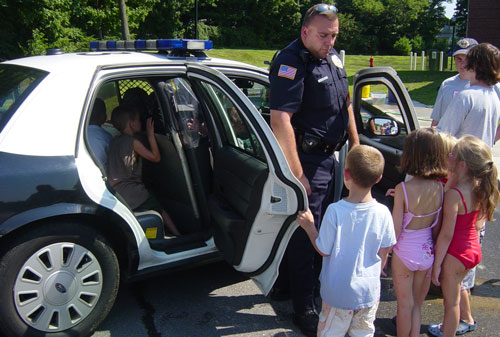 A reminder from the Recreation Department that summer playground camp starts June 29, so sign up soon if you haven't already. In addition to playground camp, there are a number of specialty camps being offered by the Rec. Department, as well.
You can find all the details in their press release:
Southborough – Summer fun is now just around the corner and preparations for the Southborough Recreation Summer Playground are in full swing.  Recreation offers eight weeks of Pre-K and Youth Playground Camp beginning June 29 and running through August 21.  The camps run weekly, Monday through Friday from 9am to noon, rain or shine, with an additional one hour lunch period optional.

The Pre-K camp is held at the Finn School playground and is co-supervised by Suzie Colella, Lead Preschool Teacher at Meadowbrook Child Garden in Marlboro and Kristen Yetman, Special Education Instructional Aide at the Woodward School. This will be their seventh year supervising this program together. It is their goal to provide a friendly environment to enhance the academic and social skills of children just learning to interact in a small and structured setting. Some of the activities planned are drip-drop painting and painting with feet and hands, planting flowers and seeds, nature walks, outdoor games and water play.  Special events and theme days such as the Big Truck Day and Bubble Day are also planned each week. The Pre-K camp is for children at least 2.9 years old (must be potty-trained) through those entering Kindergarten in the fall.

The Youth camp is held at the Woodward School playground under the supervision of Tiffany Goode, Woodward School Physical Education Instructor. It is Ms. Goode's third year with this program. The youth camps are grouped by age and are for children entering grades 1 through 6. Each session offers a variety of age appropriate sports, games, arts and crafts, science and water play. Special events such as FBI Day and visits from the Police and Fire Departments are also planned each week.

For children in grades 7 through 9, Recreation offers a Counselor in Training (CIT) Program. Limited spaces are still available for this program at the Youth Playground only. For more information about the CIT Program contact the Recreation office.

The camp cost is $90 per week with the optional lunch hour from 12pm to 1pm at $30 per week. Camp supervisors are first aid and CPR certified and instructor to participant ratios meet or exceed the state mandated requirements. Participants may register for as many weeks as they like. Non-residents are also welcome at no additional charge.

In addition to the weekly playground camps, Recreation also offers a variety of afternoon specialty camps. This year's camps include Multi-Sports, Soccer, Hip Hop, Baseball, Field Hockey, Photography, Tennis and Boating, to name a few. For a complete listing of camps offered, see our Summer Brochure, visit us online at http://www.southboroughtown.com/recreation/recreation.htm or call 508-229-4452.