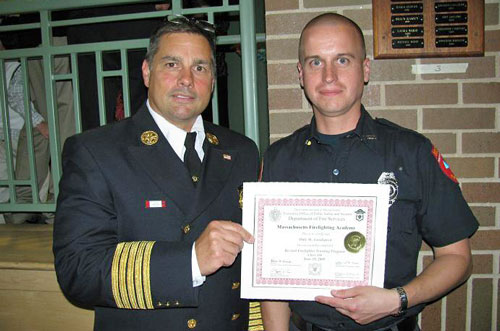 Southborough Firefighter and Paramedic/EMT Dale Goodspeed graduated from the 12-week Massachusetts Firefighting Basic Recruit Training program on June 19th. He was one of 43 graduates.
At the training program, students learn all the basic skills they need to respond to fires and to contain and control them. They are also given training in public fire education, hazardous material incident mitigation, flammable liquids, stress management, water rescue procedures, confined space rescue techniques, and rappelling. The intensive, 12-week program for municipal firefighters involves classroom instruction, physical fitness training, firefighter skills training and live fire practice.
"This rigorous professional training provides our newest firefighters with the basic skills to perform their jobs effectively and safely," State Fire Marshal Stephen D. Coan said.
For the complete press release, visit the Southborough Fire Department website.