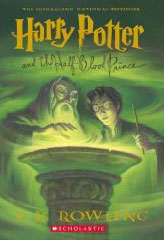 I recently finished the sixth Harry Potter installment
(just in time for the movie), and I can tell you that despite the fact that Harry Potter is classified as children's literature, it has some pertty grown-up themes. And I'm not the only Southborough resident to think so.
Algonquin senior Maggie Rousseau came up with the idea of a children's literature elective to be offered next year by the English department. The class will explore themes in children's literature, from classic fairytales to modern epics. Rousseau told the Metrowest Daily News:
"So many things you didn't understand as a kid, reading it over you're able to understand now," Rousseau said. "It's not just a throw-away class for an easy A."
You can read more in the Metrowest Daily News.