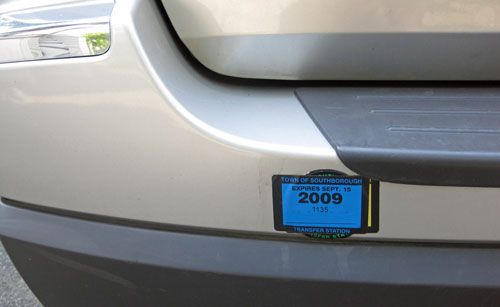 Information on how to purchase Transfer Station stickers for 2010 went out to Southborough residents last week. You can buy them online, by mail, or in person at the DPW office. The deadline is September 15.
You're required to have a valid sticker if you want to use the Transfer Station to get rid of trash or recycling, or if you want to visit the Swap Shop. If you enter the Transfer Station without a sticker, you can be fined $250.
The Recycling Committee camped out at the Transfer Station for a few days earlier this year to see how many people used the facility without a valid sticker. Of the 316 cars that passed through the Transfer Station on that particular Thursday-Saturday, only two did not have a sticker. Another 3 had stickers that weren't properly displayed.
Stickers cost $110 for the first one. The second is free, and subsequent stickers cost $50. Seniors get their first two stickers at no cost.