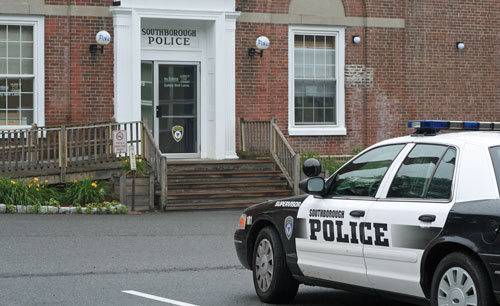 "Are we closer to the goal of getting a new public safety building?" That's what Chairman Sal Giorlandino wanted to know at last week's selectmen meeting. The answer isn't entirely clear.
The Municipal Facilities Committee and the Historical Commission have been working independently on two very different options for a new police station. The facilities committee developed a schematic for a new one-story building that would require the existing building to be demolished. The Historical Commission is promoting a renovation/addition scheme that would save the existing building.
Needless to say, the two groups don't necessarily see eye-to-eye. But last week selectmen instructed to two committees to work together "in the best interest of the town."
Town meeting strategy
And with the special town meeting only 8 weeks away, the clock is ticking. Selectmen have to decide which plan or plans to present to voters at town meeting. Should they present multiple plans and let voters choose? Or should they pick one to endorse?
"If we present multiple plans at town meeting, the chances of anything getting approved is slim," Chairman Sal Giorlandino said.
Former selectman Roger Challen who attended the meeting, agreed. "There is a much better chance that the plan will be accepted if the committees are aligned."
But for that to happen, the Municipal Facilities Committee and the Historical Commission have to get on the same page. The two committees will hold a joint meeting later this week to start discussions.
The buy (not build) option
But don't forget, there's also the wildcard that is 150 Cordaville Road. The property recently came on the market and town officials toured it with a new public safety complex in mind.
Selectmen asked the Municipal Facilities Committee to come up with an "action plan" that would consider things like renovation costs and what to do with the existing police and fire stations should the departments move to 150 Cordaville.
But not all selectmen agree pursing the property would be a good idea. Selectwoman Bonnie Phaneuf said both the Municipal Facilities Committee and Historical Commission have developed plans that would meet the town's needs. "They have all the information to develop something, and to now want to move someplace else, I don't get it," she said. "My biggest fear is that nothing will happen."