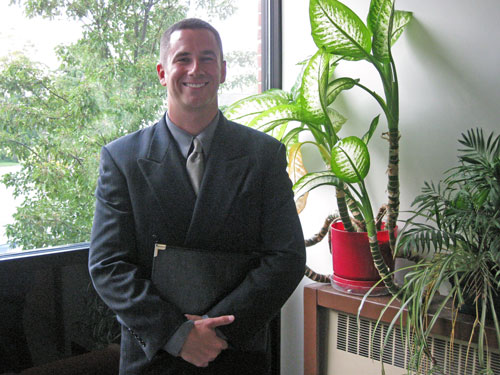 Later this month, the Southborough Police Department will welcome it's newest member, Officer Kieth Nichols.
Nichols, a four-year veteran of the Barre Police Department, was unanimously appointed by the Board of Selectmen on Tuesday. In addition to working full-time for Barre, Nichols has served as a reserve police officer in Southborough for the past five years.
Nichols is a Grafton resident and graduate of Natick High School. He got a B.S. in criminal justice from Westfield State College, and expects to complete a master's program in November of this year.
"Mr. Nichols fullfills my expectations of what a police officer should be," Chairman Sal Giorlandino said. "I feel confident he would serve ably in this position."
Here are some notable quotes from Nichols' interview with the selectmen:
The police department in Southborough is second to none.

A lot of police work is not black and white. You need to be able to work with people creatively.

The thing I like best is dealing with the community. I like to be out there interacting with the community, talking to the children. A lot of kids think you're a superhero. That's a fantastic feeling.

Every situation's not going to have a positive outcome, but it's how you deal with it that's important.

I'm proud to call Chief Moran my chief. I hope she's going to be chief for a long time.
In other personnel news, Selectmen last week appointed Kelly Rovendo as a new full-time communications officer. Both positions were vacant through attrition, so they don't represent an increase in staffing at the department.