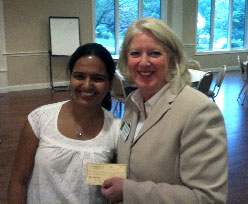 News from the Southborough Rotary:
Each year the Southborough Rotary club awards the Annie Lori Satterfield Scholarship to the graduating Algonquin applicant with the highest academic record. This year the club was honored to welcome Sadhna Gupta and awarded her the $1,000.00 scholarship.

Sadhna was third in her graduating class. In the fall, she will be attending Duke University where she will be studying both economics and public policy. In the future she intends to attend law school.

The Southborough Rotary club is part of Rotary International: a world wide service organization. For additional information go to www.southboroughrotary.org or follow us on twitter at @01772_Rotary.