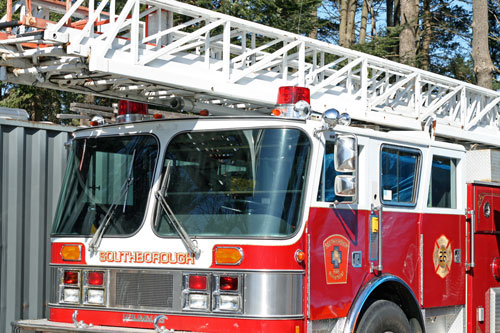 One of the items you'll get to vote on at the special town meeting next month is whether to appropriate money for a new ladder truck. The precise amount of money and where the funds would come from are still to be determined, but total cost estimates are in the $900K range. About $350K has been raised through donations.
Selectmen have said they're in favor of purchasing a ladder truck, but it's likely the question will generate some debate at town meeting. At one of their recent meetings, selectmen and members of the Advisory Committee shared questions they think voters might ask.
Here are some they came up with:
Why do we need a ladder truck?
There are a limited number of structural fires in town. Is the cost of a ladder truck justified?
We've lived without one for a couple of years now, can't we continue to get by?
There are some low bridges in town. Will the ladder truck be able to make it under all of them?
What about sharing equipment with neighboring towns?
Since we have mutual aid agreements with bordering towns, is there a chance our new ladder truck would be in such high demand that it might not be available when we need it?
Do we give more than we receive in mutual aid? By purchasing a new ladder truck, are we in effect subsidizing other towns?
When you consider public safety needs as a whole, is a ladder truck the best use of our money?
Which of these questions do you think is most crucial? What ones would you add to the list?