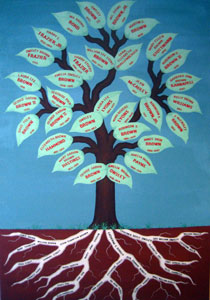 The Southborough Library is starting up a Genealogy Club next month. Fun! Here are the details.
Interested in researching your FAMILY TREE? The Southborough Public Library is putting together a Genealogy Club, starting in the fall.

The Genealogy Club will be for people of all skill levels. We'll invite speakers to teach us about family heritage and the history of different cultures. Meetings will be in an informal, round-table format. Learn how to research your genealogy on line and through traditional sources. If you are an experienced family researcher, let us know!

This Southborough Library Genealogy Club will be free and open to the public.  Meetings will be held on the third or fourth Thursday evening of the month at the Library, 25 Main Street, in Southborough. Please call the library (508-485-5031) to register, or for more information.

Gather up your family history notes and join us at the Southborough Public Library for the Southborough Public Library Genealogy Club coming this fall!
(Photo by rick)