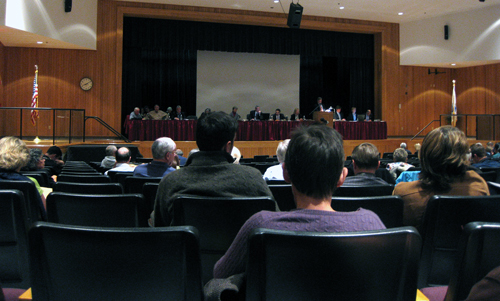 Residents made quick work of the 13 articles on the warrant at last night's special town meeting. The whole thing lasted about two hours.
Nearly every article on the warrant passed, including the ladder truck, the marijuana use bylaw, and the solicitor bylaw. The only exception was a bylaw that would have moved town meeting to the first Saturday in April.
For most of the articles there was little or no debate. Most surprising for me was that the two capital purchases — the ladder truck for $850K and the police SUV for $33K — elicited no discussion. Nothing. Not a word. I thought for sure somebody would stand up and object. Instead, both passed almost unanimously.
The most debate came around the marijuana use bylaw and the solicitor bylaw. Both eventually passed by wide margins.
I'll dig into the big articles in upcoming posts, but here's a quick recap.
Article 1: Town reports – NO VOTE
Article 2: Increase senior tax work-off amount to $1000 – PASSED UNANIMOUSLY
Article 3: Transfer town retirees to Medicare Supplemental Health plan – PASSED
Article 4: Purchase a new aerial ladder truck – PASSED
Article 5: Fee for zoning violations – PASSED
Article 6: Drainage easements on Newton Street – PASSED
Article 7: Purchase a new SUV for the police department – PASSED
Article 8: Dog and kennel bylaw changes – PASSED UNANIMOUSLY
Article 9: Solicitor bylaw – PASSED
Article 10: Marijuana consumption bylaw – PASSED
Article 11: Conservation filing fees – PASSED
Article 12: Move town meeting to the first Saturday in April – FAILED
Article 13: Town warrant posting schedule- PASSED