Construction began a few weeks ago on the Cordaville Triangle — the wedge-shaped parcel of land at the intersection of Cordaville and Southville Roads. The site is being converted into a neighborhood park.
MBTA Triangle Committee member Nancy Vargas recently gave me a tour of the site and pointed out its various features.
The park is designed to welcome people entering town from the south. A steel panel bearing the name Cordaville helps establish the village identity.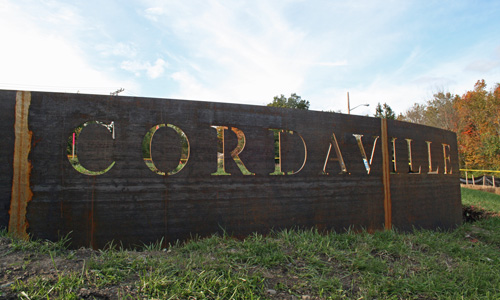 Steel panels arranged in a circular pattern at the front of the park will created a tiered landscape.
The choice of steel evokes Cordaville's industrial past. The village was once home to Cordaville Cotton and Woolen Mill. The circular arrangement of the panels is reminiscent of a mill wheel. The bell from the old Cordaville mill will be placed at the center of the circle.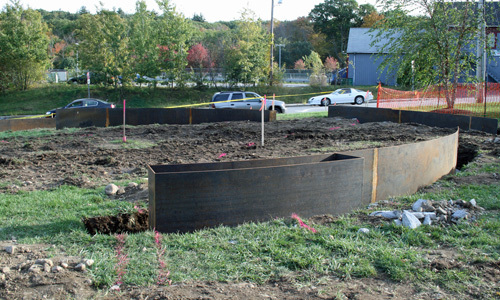 Irregular undulating paths throughout the space represent the flow of the nearby Sudbury River.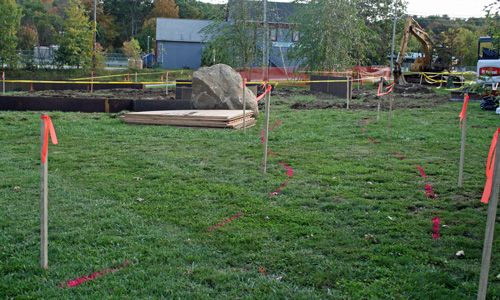 The park has been in the works since 2002 when the MBTA donated the land — originally taken by eminent domain and used during the construction of the commuter rail station — back to the town. The work is being funded by a $112K grant from the Southborough Community Preservation Committee that was approved at last year's town meeting.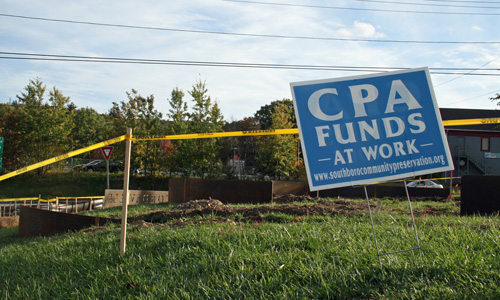 This first phase of work is expected to be complete later this fall. Future phases will include more plants and landscaping. The MBTA Triangle Committee is working with local nurseries on donations and is also planning some fundraising campaigns.
The complete vision is presented in this design plan created by landscape architecture firm Bartsche & Radner Design, Inc (click to enlarge).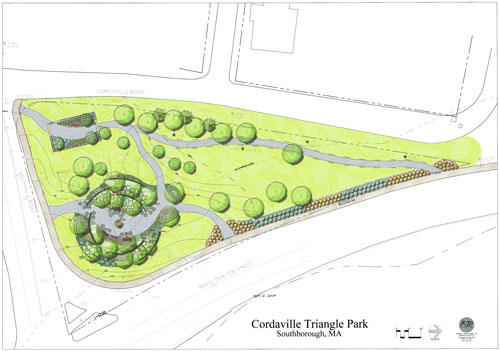 You can find more photos of the Cordaville Triangle Park construction on the My Southborough photostream.