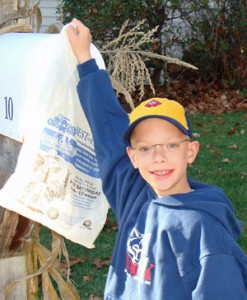 Did you get your Scouting for Food bag last week? Now's the time to fill it up. By doing so, you'll help the scouts help the Southborough Food Pantry feed local families all through the winter.
This year the scouts have a goal of collecting 5,250 pounds of food and household items, that's 25% more than last year's collection.
Suggested donations include: parmalat milk 1%, canned meats (e.g. chicken, ham), beef stew, soups, canned vegetables, solid white tuna, peanut butter (chunky), tomato products (e.g. pasta sauce, diced/stewed tomatoes), rice, pasta, cereal, jelly, juice, coffee (regular or instant), cake or brownie mixes, paper products (paper towels, napkins, and tissue), shampoo, soap (bar or bottles), toothpaste, and household cleaning products.
It's fine to donate things you already have in your pantry, but please check the expiration date first. The food pantry has to throw out any food items past their expiration date.
Bags should be placed somewhere visible from the street — like by your mailbox or at the end of your driveway — by 9:00 am on Saturday. Scouts will be by to pick them up sometime before noon.
And there's no reason you have to limit yourself to just one bag. The scouts will pick up however many bags or boxes of food you leave out.