I recently learned that in 2000 Southborough did a survey of historic properties in town. There are five binders full of information at the library about the homes, landmarks, and landscapes that lend Southborough so much character. It's fascinating stuff, and it's inspired a new feature here on My Southborough.
Each Friday I'll introduce (or in some cases reintroduce) you to a historic place in Southborough using information from the historic property survey. We'll start this week with the Community House.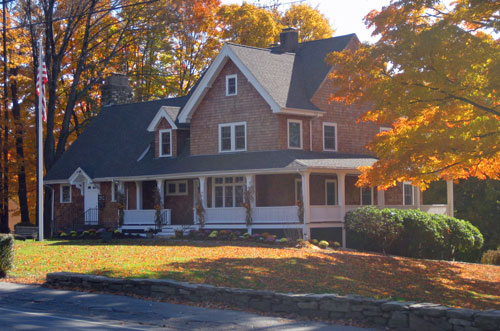 Did you know the Community House once boasted a bowling alley?
The house was built in 1906 as a residence for William A. White, a Boston lawyer. It's one of the few homes in Southborough built in the Shingle Style. Charles F. Choate, a friend of White's, bought the house in 1921 and then turned it over to the newly formed Southborough Village Society as a meeting place.
The Community House became a focal point of village life, with tea served every weekday afternoon by the original caretakers Mr. and Mrs. Amos Toombs. It hosted sewing circles, card parties, and elaborate Christmas celebrations. Longtime Southborough residents will remember the Christmas tree — a large spruce — that used to stand in front of the Community House. It was planted in 1922.
It was also during this time that the bowling alley was built for use by the community.
When it was built in 1906, the Community House replaced the old Trowbridge Brigham House built on the property in 1833. In addition to being a working farm of about a dozen cows, pigs, and a pair of oxen, the Brigham House was used as a lying-in hospital in the late nineteenth century.
When Choate gave the property to the Village Society, he included the provision that they share the building with the Leo L. Bagley Post of the American Legion. In 1921-1922, a one-story addition was built on the east side of the building to house the Legion's headquarters. It's still used as the American Legion and VFW headquarters today.
Updated (10/11/22 2:38 pm): For readers looking for the Village Society's website, click here.