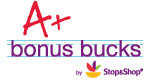 Yesterday I told you about the A+ Bonus Bucks program from Stop & Shop that lets you earn money for Southborough schools as you shop. Reader Heather asked how the schools plan to spend the money they get through the program. Good question.
I asked Southborough Organization for Schools (SOS) member Michelle Brownlee who coordinates the program for Finn and Woodward. Michelle told me that it's the first year the Southborough schools have participated in the program. It's up to each school to decide how they spend the money, but because they didn't know how much money they would get through the program, the schools haven't earmarked it for anything specific yet.
As for how much money the schools are getting? So far it's not much, but the more people who sign up, the more money the schools will get. Michelle said December was the first full month they participated, and so far the total earned is:
Finn: $10.26 (20 cards signed up)
Woodward: $57.76 (53 cards signed up)
Neary: $0 (they're not signed up yet)
Trottier: $89.45 (68 cards signed up)
Michelle noted that the Proctor School in Northborough has more than 120 cards participating in the program, and so far this school year has earned more than $600.
If you're curious, you can track the earnings for each school on the Stop & Shop website. Totals are updated monthly. Register your Stop & Shop card here.