The Regional School Committee meets tonight to vote on the budget for the 2010-2011 school year. It's a budget that may prove expensive for Southborough taxpayers.
The preliminary budget being shopped around is $17.7M. The portion of the total budget Southborough will shoulder is based on our share of the Algonquin enrollment — and that number is on the rise.
Since 2000, the proportion of Southborough students enrolled at Algonquin has increased by 30%. Most significantly, Southborough-based enrollment between 2008 and 2009 increased 2.5% — that's the highest single-year increase in at least ten years.
What it means is that Southborough's share of the regional budget is going to increase correspondingly, while Northborough's share will decrease. Two-and-a-half percent may not seem like much, but when you're talking about a budget of $17.7M, those percentage points could translate into a significant increase in Southborough's assessment.
Here's a look at how Algonquin enrollment has changed over the past decade.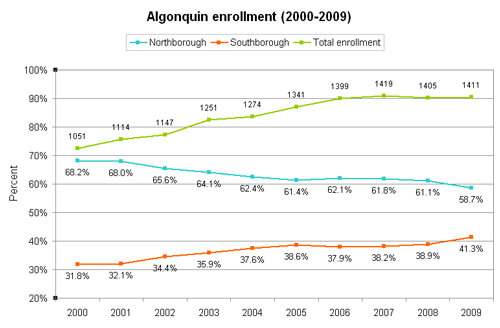 At a meeting earlier this month, Superintendent of Schools Charles Gobron told a group of Algonquin parents that the number of Trottier students choosing Algonquin has increased. He said the economy probably has something to do with that increase, but said the school's reputation also comes into play. "Algonquin can rival what many private schools can offer," Gobron said.
The final assessment amounts — which are also impacted by Chapter 70 and regional transportation funding — will be revealed at tonight's school committee meeting. The meeting starts at 7:00 pm in the Algonquin library. It is open to the public.