Please join me in welcoming the latest My Southborough sponsor, Modern Pilates, a new Pilates studio located at BodyScapes Fitness on Route 9 in the same plaza as Tomasso and Starbucks. Keep reading to learn more about what Modern Pilates has to offer. For information on how to become a My Southborough sponsor yourself, click here.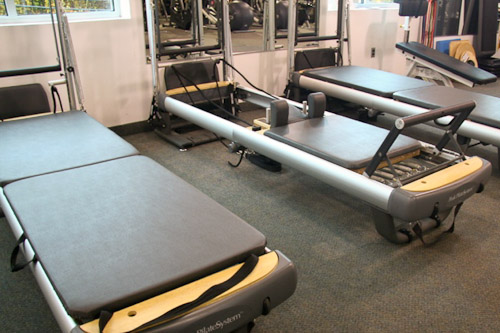 I'm not what you'd call a physically coordinated person. I feel much more at home in front of a computer than in a gym. So when Lisa Johnson offered me an introductory session at her new Pilates studio in Southborough, I have to admit I was apprehensive.
My first glimpse of the Pilates apparatus — which with its straps and springs and bars and pulleys looks more like a Medieval torture device than exercise equipment — did little to assuage my fears.
But I needn't have worried. In the capable hands of instructor Karin, it didn't take long to get into the rhythm of the exercises. Turns out it's a pretty great workout. All the better, it's fun — even for the patently uncoordinated like me.
Modern Pilates offers instruction to match a range of abilities and fitness goals. Here's a bit more from Lisa on her studio:
Modern Pilates has been around since 1999. We opened our studio in Southborough last October. I pride myself on hiring the best Pilates instructors in the area.

Our equipment is a combo of Reformers and Cadillacs, there are literally over 450 exercises to choose from! You can train privately or with one or two other clients for a truly effective and centering workout. You'll immediately feel taller and more svelte.

You don't need to be a member of BodyScapes to take Pilates. Whether you're a member or not, when you do a Pilates session you'll get free use of the locker facilities and towels. BodyScapes also offers child care.

We're offering a $99 Great Start Package that is 3 privates, or 2 privates and 2 trios, it's your choice. Regular trio prices start at $31 and privates start at $70. Contact Pilates@ModernPilatesBoston.com for more information or call (508) 460-8882.
You can find more information on the Modern Pilates website (modernpilatesboston.com).